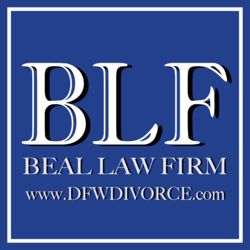 This new location keeps us within 15 minutes of the courthouse and is convenient for many of those we're trying to help
Dallas, Texas (PRWEB) January 31, 2013
Beal Law Firm, a practice that handles exclusively family law matters, has announced that it will be opening a new office in the Park Cities area of Dallas on February 1, 2013. With six full-time attorneys, one of-counsel attorney, three offices, and a staff that includes a Certified Divorce Financial Analyst and a Certified Public Accountant, BLF feels that it is uniquely positioned to meet the needs of divorce clients in Dallas and throughout the entire North Texas region.
The new Dallas office of Beal Law Firm will be located on the 10th floor of Sherry Lane Place at 5956 Sherry Lane in Dallas, which is on Sherry Lane, between Douglas and the Dallas Tollway.
"This new location keeps us within 15 minutes of the courthouse and is convenient for many of those we're trying to help – but still keeps our clients out of the downtown parking and traffic problems," says Eric Beal, the Senior Attorney and Founder of the Beal Law Firm.
Beal Law Firm was started over 20 years ago and has been helping with family law, divorce, child custody, child support, alimony, and other family law problems in and around the Dallas Fort Worth Metroplex for over two decades. The firm is led by Eric Beal, a Board Certified Family Law attorney who is also AV Preeminent Rated by Martindale-Hubbell, the recipient of dozens of awards and honors, and a former U.S. Marine Corps Legal Officer. The firm now has offices in Southlake, Fort Worth, and Dallas and can be contacted easily through it's website at http://www.dfwdivorce.com.