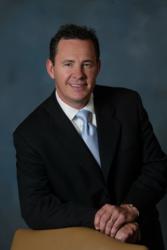 "The education you get here is a phenomenal, world-class education."
Pittsburgh, PA (PRWEB) January 31, 2013
During the Fall 2012 semester, AIReS' CEO Bryan Putt returned to Indiana University of Pennsylvania to speak to current business students as the Eberly College of Business and Information Technology Executive in Residence.
Mr. Putt spoke to classes about success in business and his experiences with AIReS. "The education you get here is a phenomenal, world-class education," he told the students. "If you leverage it, an IUP education is every bit as competitive as an Ivy League education."
Other topics addressed by Mr. Putt included guiding AIReS through difficult times like the economic downturn following the 9/11 attacks, and the current global recession. Noting the challenges still facing the business world, Mr. Putt said his goal is to continue increasing AIReS' market share, rather than making any cuts.
"Our intent is to sell our way through a recession," he said. "You have to be prudent, but you can't save your way through a downturn. You have to go out and sell. That's our strategy, and it's actually working."
AIReS was recently honored by the American Society for Competitiveness, a national association with roots at IUP, for contributions to the business marketplace.
Mr. Putt, IUP Class of '86, holds a bachelor's degree from the university.