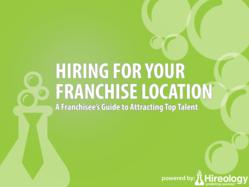 This guide was the result of our experience working with dozens of franchise systems
Chicago, IL (PRWEB) January 29, 2013
Today, the leading selection management platform, Hireology, announced they developed a hiring guide for attendees of the upcoming International Franchise Association Conference. The 30-page eBook demonstrates organization examples for franchisees and individual franchise location owners looking to streamline their hiring process.
The interactive guide is broken down into five sections: Job descriptions, promotion of the job, career sites, career site examples, and interviewing. Each section is interactive and contains links that direct the readers to blog posts and whitepapers for more information about the topic they are interested in.
"With the upcoming IFA show we wanted to create an educational piece that franchisees and franchise owners can download before the event next month," said Hireology CEO, Adam Robinson. "This guide was the result of our experience working with dozens of franchise systems."
Hireology's Selection Manager™ is the leading tool for companies looking to organize their hiring process. Franchises who utilize Hireology's platform have access to verification services and a suite of background checks and personality assessments.
Interested IFA attendees and individual franchise owners can download Hireology's free hiring guide at http://resources.hireology.com/hiring-and-interviewing-guides-for-ifa-conference-attendees
About Hireology
Hireology's award-winning Selection Management System helps companies organize their hiring process and leverage data to make better hiring decisions. Franchise systems, banks and financial institutions, healthcare systems, dealer networks, and other multi-site operators use Hireology's web-based Selection Manager™ to deliver consistent and repeatable hiring decisions in the field - leading to better hiring decisions, lower turnover, and increased profitability per location. For more information, please visit http://www.Hireology.com