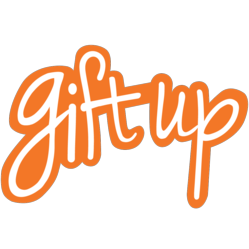 "Yiftee is about sending small, thoughtful gifts spontaneously," says Aldo Briano, Yiftee co-founder. "Now the Yiftee GiftUp API lets other websites and apps enable social gifting. We expect that Foursquare will be the first of many."
Menlo Park, CA (PRWEB) January 30, 2013
Yiftee (http://www.Yiftee.com) has launched its new "GiftUp" API, which enables any website or app to offer instant gifts from within their site. The first implementation of GiftUp is on social networking leader, Foursquare. Yiftee GiftUp for Foursquare (yiftee.com/giftupfoursquare) allows any Foursquare user to locate a friend nearby and send him or her a gift along with an invitation to "join me." For example, you could be at a café in Union Square in San Francisco. Foursquare tells you your friend is less than a mile away so you send her a latte via text message from within Foursquare on your smart phone using Yiftee GiftUp. She immediately receives the notification on her smart phone and joins you at the café to redeem her latte.
Yiftee co-founder, Aldo Briano implemented GiftUp for Foursquare (initially called "Join Me!"), and won the San Francisco Twilio award at the Foursquare Hackathon earlier in January. GiftUp uses the Yiftee.com backend which currently offers gifts at over two million merchants across the United States. The GiftUp API is applicable to a wide variety of websites and applications, such as dating, greeting cards and social networking. Any shop or restaurant could use the GiftUp API to sell gifts from their websites that their customers could pay for online and send to their friends. The recipients are notified by text and they stop by the store or restaurant to pick up the gift.
"Yiftee is about sending small, thoughtful gifts spontaneously. Instead of a Facebook™ wall post, or an email to say 'Happy Birthday,' 'Thanks' or 'Thinking of You,' you can send your friend a beer, cupcake or lunch," says Briano. "Now the Yiftee GiftUp API lets other websites and apps enable social gifting. We expect that Foursquare will be the first of many. We hope to cause an epidemic of random acts of kindness - all while driving consumers to local businesses and helping them thrive."
"Yiftee GiftUp is a creative use of Foursquare's Connected Apps Platform," said Akshay Patil, Platform Lead at Foursquare. "Foursquare's users get spontaneous gifts for spontaneous gatherings at Foursquare merchants. Everyone wins!"
Yiftee GiftUp for Foursquare uses the Twilio communications API platform for sending text messages. "Congrats to Mr. Briano for winning the Twilio Award in San Francisco at the recent Foursquare Hackathon," said Lynda Kate Smith, Twilio CMO. "Imagine being at work at 6pm, and getting a gift of a beer on your phone with a note to join your friend at the sports bar next door. Who could resist a Yiftee GiftUp?"
Yiftee is also pleased to announce the mobile web version of yiftee.com allowing any smart phone user to send local gifts on the go. This makes Yiftee's local gifting app available to the remaining half of the US smart phone market that are not on iPhones. IPhone users can download the Yiftee app from the Apple™ App Store and the mobile website is available by visiting yiftee.com from any mobile phone.
Aldo Briano, Bio
Aldo Briano, co-founder and product lead for Yiftee, is a recent graduate of Stanford University School of Engineering Masters' program. He is an expert in social design and creating meaningful mobile and web experiences. As part of the Social Data Lab at Stanford University his work on "social data intelligence" was published in The Economist: The Ideas Economy Blog. Born in Mayaguez, Puerto Rico, Briano has been a professional musician since the age of 14 and has always had a passion for entrepreneurship.
About Yiftee, ™ Local Gifts, On-the-Go
Founded in 2011 and launched nationally in December 2012, Yiftee is headquartered in Menlo Park, CA. Yiftee (http://www.yiftee.com) is an exciting new iPhone app and Internet service that lets consumers send thoughtful, unexpected gifts (most under $20) among friends, family and colleagues quickly and easily via email, mobile and social media. Yiftee gifts are real items that the recipients pick up using their smart phones and tablets at favorite local restaurants and shops, driving profitable business to local merchants. To be featured, merchants simply apply at Yiftee.com; there is no cost, no commitment, no special technology and no discounting required. Merchants gain additional sales, foot traffic and a free mobile/web sales channel. Please see yiftee.com to give your gift and spread the Yiftee love.