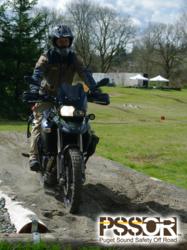 "People travel from all over North America and internationally to attend our training events. This is a true testament to the value of the skills and knowledge we have to offer."
Lynnwood, WA (PRWEB) January 31, 2013
On the weekend of April 6-7 the Stumpjumpers Motorcycle Club (SJMC) will host the 43rd annual Desert 100 race and dual sport weekend event. Once again they will fire the cannon and raise the bar with PSSOR (Puget Sound Safety-Off Road). The Pacific Northwest's premier motorcycle school, PSSOR, will be providing their expertise and training to the toughest customer; the adventure and heavyweight dual sport riders. Ridewest BMW and KGM transport have also stepped up to create a top notch experience for all participants. SJMC will provide free onsite tent camping and bike parking for the dualsport crowd along with a clinic area next to vendor row.
PSSOR will be conducting two clinics on Friday April 5th at the event site in Odessa, WA. For adventure and heavyweight dualsport riders, a "Precision and Control" class specifically tackling the terrain features needed to skillfully complete the Desert 100 dualsport ride. For Dirt riders and Dualsport riders, PSSOR will offer their level 2 dirt program, "Traction Management" plus bonus lessons using the riding areas near vendor row. Click here to register for training. During the Desert 100 dualsport ride on April 6th, PSSOR staff will ride the course, ready to assist riders as needed. Come hang out at the PSSOR Adventure Zone in the evenings with staff members from PSSOR , Ride West BMW and Touratech for social time, movie night, seminars, demonstrations and more.
Bret Tkacs from Puget Sound Safety had this to say about their company, "People travel from all over North America and internationally to attend our training events. This is a true testament to the value of the skills and knowledge we have to offer."
Ridewest BMW in Seattle is pulling out all the stops for this year's event. Ridewest is giving away a "Back Country Discovery Route" Training Camp from PSSOR, a $1,285 value! In addition, they are offering a slew of discounts and deals to attendees such as 15% off all parts, apparel, and accessories, $250 off any used motorcycle and $500 off any new BMW motorcycle, just by bringing your wristband from the Desert 100 in to their shop. Ridewest services all brands and carries a large selection of used bikes and they love trade-ins. So be sure to visit them on vendor row to register for the giveaway or stop in their shop with your wristband and register to win a $500 gift card.
Weather over the passes can always be a factor for this event so KGM Motorcycle Transport out of Kent, WA will provide round trip or one-way motorcycle transportation to the Desert 100 in Odessa, WA from their warehouse or possibly Ridewest in Seattle. Their enclosed trailers will stay for the event with KGM staff and will be available if riders would like their motorcycle secured when they are not riding. KGM accepts total responsibility for each motorcycle while it is in their custody, so each individual can rest assured that their bike will be taken care of. The fees for this service are $100.00 round trip and $50.00 one way. Sign up with KGM Directly at 800 378 6618.
The Stumpjumpers are thrilled to have PSSOR, Ridewest and KGM transport involved this year as key sponsors and vendors. You can count on seeing all the key supporters this year offering the latest and greatest for the dualsport community including Touratech, Cyclops Adventure Sports, Konflict Suspension, Altrider, and Giant loop. Be sure to visit all these vendors on vendor row and thank them for their support of the SJMC Desert 100. What could be better than having all these great companies and staff ready to share their experience and training just for you?
The Stumpjumpers Motorcycle Club based in Lynnwood, Washington has provided family events for the off-road motorcycle community since 1967 and has hosted the Desert 100 for 43 years. The Desert 100 event is held in Odessa,Washington with over 5000 attendees and 3500 riders. The KGM Motorcycle Transport Company based in Kent Washington has provided transportation, assembly and warehousing in the motorsports industry for over 30 years. Puget Sound Safety has been in the business of training riders since 1996, training in excess of 8000 riders annually. The off-road division (PSSOR) has programs ranging from training courses for the U.S. Special Forces to specialized programs for Adventure riders.