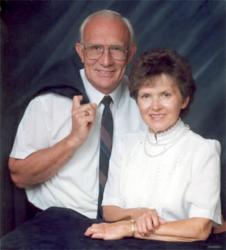 Mesa, AZ (PRWEB) January 31, 2013
When Helen Stenberg, who suffered extreme pain from rheumatoid arthritis, began to self-administer cortisol, she found pain relief in three weeks and has remained pain-free for more than 25 years. Her recovery is nothing short of miraculous. Now her husband, Dr.Virgil Stenberg, shares this remarkable cure at a foundation named in her honor, "The Helen Foundation."
When Helen was first diagnosed with arthritis she saw countless doctors and tried numerous treatments, undergoing multiple surgeries, but nothing helped alleviate the pain. Her husband, Stenberg was determined to help her. He has dedicated the last 40 years of his life working on a cure for arthritis and other debilitating, inflammatory conditions that cause chronic pain.
Stenberg saw the connection between pain and inflammation within the body. He began years of research on cortisol and it's effect on inflammation. Cortisol is continuously made by the body's adrenal glands and excreted through urine. Stenberg noted that despite the negative views on cortisol, when the proper dosage is administered, cortisol could totally alleviate pain and inflammation. Stenberg looked at how aspirin is self-administered for headaches and began to research the proper dosage for cortisol to be self-administered, as needed. Through trials and studies he formulated Microdose Therapy. When Helen began to self-administer the cortisol, using it only as needed for pain, her recovery was astounding.
Stenberg has since, helped thousands of people become pain-free from rheumatoid arthritis, fibromyalgia and other painful ailments using Microdose Therapy. Unlike traditional arthritis treatments that average 8% to 40% symptom reduction, patients doing Microdose Therapy average 75% symptom reduction. Because cortisol is generic and administered as needed, it is a cost-effective and medically efficacious treatment. Stenberg says "I wanted to find a cure to truly alleviate the pain of rheumatoid arthritis and I wanted it to be affordable for all those who are suffering."
The Helen Foundation offers weekly seminars on pain-relief and Microdose Therapy.
Dr. Stenberg is the author of "Arthritis: The Simple Solution" and "Fibromyalgia Solved."
Chester Fritz Distinguished Professor, University of North Dakota
Career Development Award, National Institute of Health
He was Editor of Proceedings of the North Dakota Academy of Sciences.
President, North Dakota Academy of Sciences.
President, Red River Valley Chapter, American Chemical Society.
President of the Board, Listen and Drop In Center, For The Mentally Challenged.
On the International Advisory Board, Interscience World Conference On Inflammation, Geneva.
Presented invited lectures: Australia, Canada, France, India, Japan, Mexico, and Switzerland.