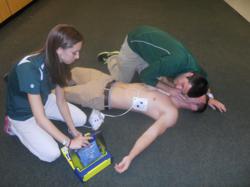 The occurrence of emergency situations is unpredictable and ATs have the educational preparation to act calmly and efficiently to best manage each circumstance.
Buffalo, NY (PRWEB) January 30, 2013
For the second time in just two short years, a certified athletic trainer (AT) has helped save a life during a high school sporting event in NYS. In both cases, the individuals were experiencing sudden, life-threatening cardiac episodes and, in both cases, the timely and skilled response of the on-site AT was instrumental in the ultimate survival of these active people. Most recently, on January 4, 2013, Melissa Hudecki, ATC, certified AT with Catholic Health AthletiCare in western NYS, initiated CPR, including the use of an automated external defibrillator (AED), on a referee who collapsed during a varsity basketball game. By all accounts, the basketball official is in the stark minority of a less than 5-percent survival rate for his condition – and the initial care he received on the court by Ms. Hudecki was an imperative part of his recovery.
Although ATs often feel as though situations such as this are a routine part of their jobs, responding quickly, efficiently, and appropriately in countless situations – emergency or not – is the result of the quality education, thorough training, and continued practice required of all certified ATs. Back in the summer of 2011, Cyndi Kelder, ATC, a certified AT in central New York, administered an AED to revive a high school lacrosse player who was suffering from commotio cordis, a disruption of the heart's rhythm, after being struck in the chest with a ball during practice. The student-athlete not only survived, but has continued his high school lacrosse career. In an older, but related incident back in 2001, an AED was used by an AT at Syracuse University (NY) to help revive a collegiate football official during a nationally-televised game. This incident, though only just over a decade ago, was instrumental in showing the life-sustaining value of having an AED as well as properly trained medical personnel, namely a certified AT, present during athletic events.
Besides heart conditions - and the ongoing public recognition of concussions - as immediate, critical concerns, heat illnesses can also pose a significant, urgent threat. In the summer of 2011 alone, six high school football players and a football coach died nationwide from heat stroke. Unlike the potential of injury from the daily routine of sports, heat illnesses are 100% preventable when qualified medical personnel are there to educate athletes and coaches on proper hydration and heat-safety strategies, watch for warning signs, and stop activity when environmental conditions become unsafe.
How can we improve the prevention and management of these and other life-threatening incidents in our student-athletes and youth sports? Provide the services of a certified athletic trainer. The occurrence of such critical situations is unpredictable and ATs have the educational preparation to act calmly and efficiently to best manage each circumstance. Additionally, having ATs on site during athletic events is essential to ensure the best possible overall healthcare for student-athletes. Unfortunately, only 42% of high schools nationwide have access to an AT, and this number is even lower in NYS. It's impossible to put a price on the value of saving lives; however, the cost of hiring an AT is well within societal means when lives are at stake.
"Although incidents such as these are thankfully rare, they do showcase the wide-range of clinical skills and emergency-management abilities that a certified athletic trainer possesses, and the unique niche that ATs fill as the premier health care provider for student-athletes and others active in various sport-related settings," comments Kristy Hart, MS, ATC, the Public Relations chair for NYSATA. "It is the hope of NYSATA and AT professionals nationwide that the use of ATs will be seen as an integral component of every comprehensive athletic program, regardless of the competition level, in order to best protect and service even our youngest or most amateur athletes."
NYSATA, founded in 1976 and incorporated in 1989, stands to advance, encourage and improve the profession of AT by developing the common interests of its membership for the purpose of enhancing the quality of healthcare for the physically active in NYS. Comprised of over 1,200 certified and practicing ATs, NYSATA is the state-wide affiliate of the regional Eastern Athletic Trainers' Association (EATA) and District Two of the National Athletic Trainers' Association (NATA).