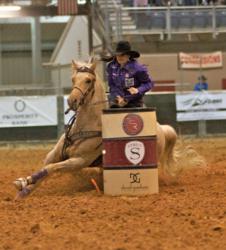 (PRWEB) January 31, 2013
Diamonds & Dirt is a five-day barrel horse classic with Futurity, Open 5D, Sweepstakes and Derby races, as well as Youth & Junior categories. Committed to the meeting the highest standards in the barrel racing industry, Diamonds & Dirt is endorsed by the most respected sanctioning organizations in the United States. Diamonds & Dirt attracts the top riders in the industry and has quickly become one of the most prestigious events in barrel racing today.
Diamonds & Dirt is held March 12 -17, 2013 at the Brazos County Expo Complex, in Bryan, Texas. This state-of-the-art complex is located deep in the heart of Texas. It is one of the newest and finest equestrian facilities in North America and is home to the 11-time national champion Texas A&M equestrian team.
Founder Kristi Schiller states, "Despite today's economic challenges, interest and participation in barrel racing continues to thrive. I believe barrel racing is on the verge of becoming a world-class sport of its own. The time is right for tapping a larger audience as well as providing an outstanding new venue for the loyal riders who have dedicated themselves to barrel racing over the years. With the phenomenal bloodlines and speed of these horses, combined with the agility of talented riders and trainers, I believe history will be made every year at Diamonds & Dirt. We are deeply committed to making this a premier event. The service and hospitality experienced by each participant will be second to none, and our payouts are always top-tier. At Diamonds & Dirt, we're bringing the bling back to Texas… where it all began."
Credited with having one of the largest purses in barrel racing today, Diamonds & Dirt presents over $450,000 in cash and prizes. Proceeds from Diamonds & Dirt are donated to K9s4COPs, a national nonprofit organization that purchases and places trained K9s with law enforcement agencies across the U.S.
Seasoned equestrians and curious enthusiasts take in all that this fast-paced competition has to offer, including live entertainment by two nationally known recording artists, food and wine pairing presentations, a retail round-up with vendors from across the country and live demonstrations by K9s4COPs. Diamonds & Dirt is fun, family friendly and a great way to spend five days in March.