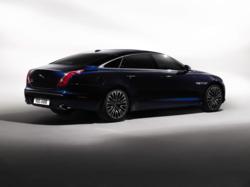 Good enough for M? Good enough for Bond? Indeed.
London (PRWEB) January 31, 2013
Quintessentially Driven have acquired some of the most extraordinary car's used in recent movies and TV castings to chauffeur it's members around town. There are also some incredible feature which make these cars out of this world! let's have a look...
SkyFall 007
Skyfall is pretty much anyone you could want from a 21st Century Bond; cool but not camp, respectful of tradition but up to the moment, a sense of fun yet complex and not to mention the stunts, the villains, the locations, the girls and the cars. The Quintessentially Driven flagship vehicle is the black Jaguar XJ which features in Skyfall as the getaway car. Good enough for M? Good enough for Bond? Indeed.
The Noble Gifts Gala
This fundraising initiative brings together the Worlds of Celebrity and Business with the beautiful Eva Longoria hosting the global memorable event. Quintessentially Driven jumped on board and acted as Eva's chauffeur service for the entire evening. She was smiling ear to ear and the event was a spectacular success.
Made in Chelsea
Some may laugh, some may cringe yet not one can deny that this E4 series is one of the most watched TV shows of the moment in the UK and the US. Shot mostly in Belgravia, Knightsbridge and Chelsea areas of London, these guys certainly know how to live the highlife. What better way to be chauffeured around London like Spencer and Louise than in a beautiful 1st class car. Quintessentially Driven feature on the new series of Made in Chelsea as the cars to be seen in.
The I-pads
Most have one and those that don't, want one. Quintessentially Driven Chauffeurs are certainly looking forward to receiving theirs ready for the New Year. Not only can clients use these at their disposal with wi-fi on route but the drivers also stand out from the crowd whilst holding the i-pad as a sleek name board for initial greeting. A cut above the rest, some might say.
The Range Rover Autobiography 2013
The all new Range Rover is here: Royalty, footballers, country gents and car enthusiasts rejoice! Unsurprisingly, Quintessentially Driven has snapped them up on their chauffeur fleet faster than you can say hot! This is the world's first SUV with an all-aluminium body and boasts new electric power-assisted steering that is beautifully waited and light. It's quick, comfortable, classy and capable. This Range Rover remains peerless.
About the Company:
Quintessentially Driven is a sister business of Quintessentially, the leading international luxury lifestyle company. Launched in 2000 as a small London based concierge service, Quintessentially has experienced a complete transformation in a decade and currently have offices in over 64 cities around the World. Quintessentially Driven is an unrivalled bespoke car service for Quintessentially members but also the general public. All Quintessentially Driven chauffeurs have many years of experience and offer a truly professional service. Their unparalleled knowledge of the roads will ensure your journey goes off without a hitch and that you arrive at your destination relaxed and in a timely fashion.