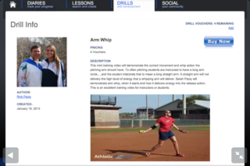 Athletic Science portable sports drills helps athletes stay safe during practice
(PRWEB) January 30, 2013
Athletic Science began working with softball athletes, parents and youth coaches this month. An elite coach helped an injured athlete learn proper form from experienced coaches by using online sports coaching with video analysis. With 30 million children and teenagers participating in organized sports the CDC has been tracking some alarming trends.

High school athletes account for an estimated 2 million injuries and 500,000 doctor visits and 30,000 hospitalizations each year
More than 3.5 million kids under the age of 14 receive treatment for sports injuries each year
Children age 5 to 14 account for nearly 40% of all sports-related injuries.
Overuse injuries account for nearly half of all sports injuries in middle and high school students
Over 60% of injuries occur during practice
According to the American Academy of Orthopedic Surgeons, in 2009 during a single youth baseball game, 20% of children ages 8 to 12 and 45% of those ages 12 to 14 will have arm pain
According to the safe kids website, 70% of kids drop out of youth sports by age 13
Based on Preserving the Future of Sport: From Prevention to Treatment of Youth Overuse Sports Injuries; AOSSM 2009 Annual Meeting Pre-Conference Program; Keystone, Colorado.
"Among athletes ages 5 to 14, 28 percent of percent of football players, 25 percent of baseball players, 22 percent of soccer players, 15 percent of basketball players, and 12 percent of softball players were injured while playing their respective sports"
"Since 2000 there has been a five fold increase in the number of serious shoulder and elbow injuries among youth baseball and softball players."
This winter in New England a concerned youth coach and parent took advantage of online sports coaching to help his daughter. The injury had this U14 softball pitcher sidelined since the summer of 2012. Although the athlete had been working with a local private coach since she started pitching, her pitching form and overuse were causing enough pain to sideline her from playing the sport she loves. The athlete submitted a video online lesson to a professional coach from North Carolina to diagnose particular motion patterns that might be causing pain. Although the video submitted by the New England athlete lasted only 60 seconds, the elite coach responded with a 27 minute video breakdown of every detail of her pitching motion including slow motion analysis and telestration. With the elite coaches' professional experience and side by side analysis he was able to visually demonstrate the root causes of the problem. Now the athlete has all the tools to prepare for her season. Her online coach will also be available during the season to make sure her adjustments are on track.
Besides diagnosing the problem the Athletic Science elite coaches can recommend drills to improve practice time. All purchased drills remain in an athletes profile and are accessible from any device. Portable drills make it easy for athletes to travel with their online sports coach. Understanding the importance of safe practice, Athletic Science has the only online platform that connects athletes, parents and coaches with qualified instruction.
The Athletic Science website is designed with social features to encourage communication with online coaches, private coaches, youth coaches, parents and teammates. Any member of the "invite only social group" can gain access to online lessons. This important social feature keeps athletes safe by opening up lines of communication.
Founded in October 2012, Athletic Science is the only website that enables kids to work with carefully screened coaches without any geographical or schedule restrictions. Athletic Science can provide elite sports instruction from coaches spanning 12 sports in 16 states. Anyone can sign up for Athletic Science and connect with people they know, elite coaches and successful athletes in a trusted environment. Athletic Science is a privately owned company in Boston, MA.