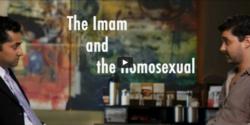 I envision a world in which homosexuality is the moral, legal, social, cultural, and spiritual equivalent of heterosexuality.
Chicago, IL (PRWEB) January 31, 2013
Silk Road Rising, a Chicago based nonprofit polycultural arts organization, has released The Imam & The Homosexual (15 min. 53 sec.), a free online video play written and directed by Jamil Khoury.
The Imam & The Homosexual is a fictional depiction of a "strange bedfellows" political alliance between Imam Mustafa Khan (played by Khurram Mozaffar), spiritual leader of a besieged Naperville, Illinois mosque, and Carl Baker (played by Nicholas Cimino), the liberal gay son of the imam's chief nemesis, Naperville mayoral candidate and conservative Republican, Charles Baker.
As Imam Mustafa struggles to reconcile his support for civil rights with his religious and cultural objections to homosexuality, Carl imagines the Muslim and LGBT communities joining forces against common enemies.
The Imam & The Homosexual can be viewed for free at http://www.silkroadrising.org/video-plays/mosque-alert/the-imam-the-homosexual
According to playwright/director Jamil Khoury, "I have long wanted to dramatize the tensions that inevitably arise when generally well intentioned religious people struggle with the dilemma of supporting LGBT civil rights, on the one hand, while condemning the 'practice' of homosexuality, on the other. The desire to end discrimination in the civic and legal arenas while upholding discrimination in the religious arena represents a fascinating crossroads for many Americans of faith."
Khoury adds, "As the Arab American Christian husband of a Muslim American man, I am all too aware of the intersections and many parallels between Islamophobia and homophobia, particularly as they play out in the American right wing. Greater political cooperation between LGBT activists and Muslim activists, and a mutual embrace of each other's issues, is something I feel passionately about."
"For too many people in both communities, our shared experiences of prejudice, discrimination, bullying, and hate crimes are not always obvious. My hope with The Imam & The Homosexual is to shed light on this common ground," Khoury insists. "I'm also hoping to break down those 'impenetrable' walls falsely constructed between our two communities. By highlighting the very real needs (and existence!) of LGBT Muslims, I am consciously challenging those who maintain that one cannot be both Muslim and queer."
"I envision a world in which homosexuality is the moral, legal, social, cultural, and spiritual equivalent of heterosexuality," Khoury asserts. "I also envision a world in which religious pluralism and religious freedom, as well as freedom from religion, is embraced as a given, a no brainer. May The Imam & The Homosexual help move us in that direction."
The Imam & The Homosexual is part of an ongoing development process for Jamil Khoury's new play-in-progress Mosque Alert. Mosque Alert tells the story of two suburban American families living in Naperville, Illinois, one family's Christian, the Baker family, and the other family's Muslim, the Khan family. The Bakers and the Khans find their lives torn apart by a proposal to build a new mosque in their community. In supporting his own writing of Mosque Alert, Khoury has developed a first-of-its-kind multi-step, interactive, online, new play development and civic engagement process.
To learn more about Mosque Alert please visit http://www.silkroadrising.org/video-plays/mosque-alert