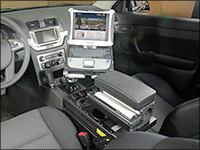 WARMINSTER, Pa. (PRWEB) January 30, 2013
The start of the new year is a great time for businesses to refresh company-wide policies regarding fleet safety, current technology trends and distraction-free driving. Havis Inc. compiled a list of tips that highlight trends and advise businesses on how to improve safety and increase productivity in the field.
Support Distraction-Free Driving
Make employee and public safety a priority with a distracted driving policy. Distraction-free driving lowers the risk of an accident as well as other traffic violations. In addition to a policy, businesses should ensure that fleets are equipped with vehicle and computer mounts that reduce distractions on the road and aid drivers in focusing on their work when safely parked. For example, Havis vehicle consoles provide familiar, easy access to radios, emergency lighting controls and communications equipment to help drivers keep their eyes on the road.
Improve Connectivity and Uptime
Mobile workers are highly dependent upon technology to stay productive, so it's important to select reliable hardware, software and accessories. Remote technology issues can cause employee downtime, and may require travel back to an office or station for resolution. In order to minimize downtime, businesses should select high-quality, dependable computing solutions. Rugged laptops and tablets by Panasonic and Dell combine high performance with extreme durability to keep mobile professionals up and running in just about any environment. Havis works closely with Panasonic and Dell to build compatible docking stations that are thoroughly tested to withstand tough mobile environments, and provide secure connection to essential peripherals, such as printers, barcode scanners and keyboards.
Prevent Dead Batteries
Vehicles are at a greater risk for a dead battery during the harsh winter months. Falling temperatures diminish a battery's electrical capacity and increase the amount of power the battery needs to crank the engine. Auto shut-off timers, like Havis ChargeGuard®, extends battery life and provides complete voltage protection for expensive electronics all year round.
Be More Portable
Portability is the key to efficiency. Today's mobile professionals should be able to identify the best combination of devices to meet their specific needs from the field to the office. The flexibility, usability and popularity of tablets can transform the average mobile professional into an ultra-productive, on-the-go road warrior. Once equipped with accessories like the Havis Desktop Stand for Tablet Docking Stations, mobile workers can easily transition from the vehicle to the office with fewer interruptions. As the more traditional staple of the mobile office, laptops are an excellent complement to tablets with their higher processor performance and larger screens.
Utilize Mobility Software
Computing hardware is only one of many components involved in a total mobility solution. To better enhance employee productivity, businesses should select a comprehensive software platform to solve business problems such as vehicle tracking, real time reporting and information sharing. Examples of software providers include Telogis, which offers a cloud-based enterprise platform with a number of scalable solutions for any size fleet, and NetMotion Wireless, which provides mobile VPN and cellular network performance software.
Save Money by Going Green
By minimizing engine idling, fleets can reduce harmful emissions, fuel consumption and vehicle maintenance costs. Idle reduction is made simple with the Havis IdleRight2, a device that significantly cuts down on a vehicle's idle time while electronics, such as computers, light bars and radios, are in use.
Enhance Employee Morale
A major factor affecting employee morale is comfort of their mobile office. Poorly positioned equipment in the vehicle can cause back, wrist and eye strain, resulting in extreme discomfort and lost work time. Proper placement of a laptop, tablet or radio is vital to minimizing unnecessary stretching and twisting that can cause potentially debilitating lower back pain. By investing in ergonomic, stable solutions, such as Havis consoles, docking stations and mounting bases, companies invest in the health and wellness of their mobile workers.
Follow Havis
Stay up-to-date on the latest products and announcements from Havis through Facebook, Twitter and YouTube.
About Havis
Havis Inc. is a privately held, ISO 9001:2008 certified company that manufactures in-vehicle mobile office solutions for public safety, public works, government agencies and mobile professionals. For over 80 years, the Havis mission has been to increase mobile worker productivity with industry-leading products that are built to the highest safety and quality standards and are designed with comfort in mind. Headquartered in Warminster, Pa., with an additional location in Plymouth, Mich., Havis currently employs 200 people. For more information on Havis, please call 1-800-524-9900 or visit http://www.havis.com.
Contact:
Andrea Felice
Havis, Inc. | Marketing
Phone: 215-957-0720 ext. 3198
E-mail: media(at)havis(dot)com
http://www.havis.com
# # #