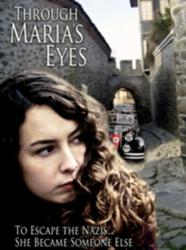 If Maria and her sister can can deal with this then what can you deal with.
Chandler, AZ (PRWEB) January 30, 2013
This dramatic screenplay from DB Rich Productions, is based on the survival of Gizella and Heidi, sisters, in Budapest Hungary in 1944 after the Nazis occupy their city.
This screenplay has already won accolades from Woman's Independent Film Festival, Great Lakes International Film Festival, Screenplay fest, Las Vegas Film Festival and the Beverly Hill Film Festival
Through Maria's Eyes uses the story of Gizella to illustrate the impact of one of the deadliest evils of the 20th century and perhaps modern history. It is easy to see why David RIch, founder of DB Rich Productions, is so determined to spread the word about this compelling story told to him firsthand by his brave and courageous mother. The book is both a commentary on life in Nazi Europe and a close look at woman determined to save her family and herself from certain death.
The Cinequest Film Festival take place is San Jose CA February 26th thru March 10 and is its 23rd year. Attendence this year is expected to reach between 80-100,000 people from all over the world.
DB Rich Productions founded in early 2009 also has three other movies, Margarine Wars, a romantic comedy, Actor? a documentary, animated documentary and The Lighthouse, dramatic thriller. Margarine Wars is with Ytinifni for worldwide distribution, Actor, a documentary is completing post, and The Lighthouse is in post after wrapping last summer.