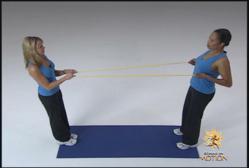 "For the first time, people have access to these incredibly important exercises, in the privacy of their own home." Dr. Samuel Hess, Orthopedic Surgeon, Port Charlotte, Fl.
Naples, Fl (PRWEB) January 30, 2013
A common problem that Physical Therapists struggle with is what to do with patients who have capped programs or no health insurance for physical therapy. Physical Therapists commonly offer exercise drawings with instructions and hope for the best with their patients. Too often, patients lose the information or simply forget how to execute the exercises properly.
The new Rehab In Motion™ program solves that problem by giving the Physical Therapist the ability to offer over 6,000 exercises to their patients who are categorized as capped or no insurance. Therapists access the Rehab In Motion™ secured site and design a custom home based therapy program for their patients, which they access through a simple email link. Patients view the programs via their computer, tablets, or smart phones. It's that easy! And, for patients who are not online savvy, there are equivalent DVD exercise programs available as well.
Rehab In Motion™ recognized the importance of the Physical Therapist and patient relationship when designing the program. The Physical Therapists participation in Rehab In Motion™ is critical for successful outcomes, as they are the ones who are creating these important exercises for their patients to be completed at home. However, it does not end with the click of a mouse. Having patients return for once a month maintenance checkups ensures that they are executing the exercises correctly and that needed changes can be made during the time of the consultation.
Rehab In Motion™ is the next logical step for the Physical Therapist to offer an effective solution for patients with capped or no health insurance and also maintains the importance of the ongoing therapist / patient relationship.
View sample exercise programs at http://www.rehabinmotiononline.com
About Rehab In Motion™
Rehab In Motion™ was developed to deliver comprehensive, professionally produced and inexpensive instructional DVD's and online content for consumers needing continued or desired rehabilitation. With Physical Therapy coverage being decreased by insurance companies, the program available from Rehab In Motion™ will help those with limited insurance policies receive the help they need in the comfort of their own home.