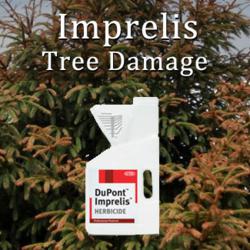 If you sustained Imprelis damage to your trees after Imprelis use, contact Wright & Schulte LLC today for a FREE Imprelis lawsuit evaluation at http://www.yourlegalhelp.com, or call 1-800-399-0795.
Columbus, OH (PRWEB) January 30, 2013
Wright & Schulte LLC, an experienced defective products law firm, is providing an update on the Imprelis settlements stemming from DuPont's Imprelis Tree Damage recall of it's herbicide in 2011. According to a recent report from The St. Paul Pioneer Press, DuPont is likely to spend over $700 million to compensate property owners for Imprelis damaged trees. While some 34,000 Imprelis Tree Damage claims have been filed with DuPont through the Imprelis tree damage compensation program, the company is not saying how many have been resolved. A proposed Imprelis settlement is now awaiting court approval in U.S. District Court, Eastern District of Pennsylvania, where thousands of Imprelis lawsuits are currently pending. According to court documents, if approved, property owners participating in DuPont's Imprelis claims process will be included in the Imprelis class action settlement. (In re Imprelis Herbicide Marketing, Sales Practices and Products Liability Litigation, Case No. 11-md-2284)
[http://minnesota.publicradio.org/display/web/2013/01/22/environment/dupont-herbicide-trees
The terms of the proposed Imprelis Tree Damage Settlement require that claimants dissatisfied with its terms opt out if they do not wish to be included in the Imprelis settlement class. Wright & Schulte LLC is already representing hundreds of plaintiffs in Imprelis lawsuits filed outside of the Pennsylvania Imprelis class action, and is offering free advice to property owners who wish to opt out of the proposed Imprelis settlement. Richard Schulte, a partner with Wright & Schulte LLC, told the Columbus Dispatch last year that the offers DuPont has made to property owners via its previously established claims program are unsatisfactory. "None of our clients are participating in the settlements because the offers are inadequate," Mr. Schulte said.
[http://www.dispatch.com/content/stories/local/2012/09/29/when-will-dupont-pay-up.html
Imprelis herbicide was introduced by DuPont in October 2010 and marketed as a safe and effective way to treat the most common and hard to kill broadleaf weeds without any negative impact on surrounding plants. However, the U.S. Environmental Protection Agency (EPA) issued a Stop Sale and Removal Order for Imprelis in August 2011, after the agency investigated hundreds of reports of Imprelis tree death throughout the Northeast and Midwest U.S. By the time the Imprelis Recall announced and Imprelis was pulled from the market, it had killed or damaged thousands of ornamental landscape trees, including Norway spruces, eastern white pines, conifer trees, willow trees, poplar trees, deodora cedars, and balsam firs.
[http://www.epa.gov/pesticides/regulating/imprelis.html
According to the Pioneer Press report, DuPont's compensation program had been slowly paying Imprelis claims in recent months. For example, Washington County, Minnesota recently accepted nearly $38,000 for damage to trees in a park and near a courthouse. The Baker National Golf Course in Medina, Minnesota has agreed to a payment of $381,800 for its Imprelis-damaged trees.
[http://www.twincities.com/ci_22415500/dupont-herbicide-imprelis-doing-number-minnesota-trees?IADID=Search-http://www.twincities.com-http://www.twincities.com
One expert interviewed by the Pioneer Press warned that even though Imprelis has been off the market for well over a year, more damage could still occur. According to Kathy Zuzek, assistant professor at the University of Minnesota Extension Service, Imprelis is very slow acting. As such, trees that appear healthy might yet die if they were exposed to the herbicide.
About Wright & Schulte LLC
Wright & Schulte LLC, an experienced personal injury firm, is dedicated to the belief that America's legal system should work for the people. Every day, the attorneys of Wright & Schulte LLC stand up for the rights of people who have been injured or wronged, and fight tirelessly to ensure that even the world's most powerful corporations take responsibility for their actions. If you're looking for a law firm that will guarantee the aggressive and personal representation you deserve, please do not hesitate to contact Wright & Schulte LLC today. Free Imprelis lawsuit compensation evaluations are available through yourlegalhelp.com, or call 1-800-399-0795.
Contact:
Wright & Schulte LLC
812 East National Road
Vandalia, Ohio 45377
1-800-399-0795