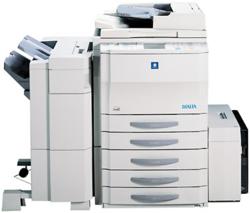 More and more businesses are realizing that by buying refurbished copiers they have nothing to lose and much to gain.
Swanton, Vermont (PRWEB) January 30, 2013
There are several essential facts that business owners need to know – and that new copier manufacturers don't want them to know – about the benefits of buying used copiers, according to Alexander Oliver, president of Copiers Copiers:
1) Most copiers are not used nearly to their full capacity. Many are replaced when they still have years of excellent service to give. This is why it is possible to buy a refurbished copier for much less than the cost of a new one without sacrificing functionality.
2) Retiring a copier before it is necessary puts an unnecessary strain on the environment. While copiers are rarely placed in landfills, when they are the materials don't break down for many years. Also, chemicals used in copiers like toners and inks can leach into ground water and cause environmental harm. Most often, copiers are recycled, although this process is expensive and consumes energy and resources.
3) The manufacturing of new copiers also requires considerable energy and the use of considerable raw materials. When the useful service offered by copiers is extended then fewer new copiers have to be produced and energy and resources are saved.
4) The major manufacturers would have customers believe that to have all the most advanced features, they have to buy new. But in reality, the features available on copiers don't change that radically from year to year. So a two-year-old copier most likely has very similar features to a brand new one. Copier parts can also be purchased inexpensively should anything on a refurbished copier need attention.
Because so many business owners don't realize how much they can save by buying a refurbished copier, the supply of these machines is great. This means that companies like Copiers Copiers are able to make these machines available to businesses at discounts of up to 70%.
Whether a business is considering Ricoh copiers or Konica Minolta copiers or any one of the other top brand names, it makes good business sense to buy lightly used machines that are fully guaranteed.
"More and more businesses are realizing that by buying refurbished copiers they have nothing to lose and much to gain," says Copiers Copiers president Alexander Oliver. "It's good for the environment, and it's good for the bottom line."
Oliver points out that the most efficient way of using energy and resources comes not by recycling copiers when they have lots of service still to give, it is by extending the lives of copiers that are currently in use. This is best achieved, he says, by refurbishing copiers that have only been lightly used. This provides businesses with a reliable and reasonably priced supply of refurbished copiers in all models.
For more information, contact Alexander Oliver at 1-800-961-8576. You can also check out the company's web site: http://www.copierscopiers.com
About Copiers Copiers
Copiers Copiers is a leading vendor of refurbished copiers, including standard-format copiers and wide format printers, in like-new condition and at discounts of up to 70%. The company also sells copier parts for all the top manufacturers' machines.
-30-