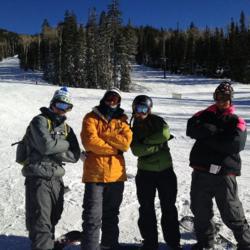 Flagstaff, AZ (PRWEB) January 31, 2013
Mid-January the Arizona Daily Sun reported record freezing temperatures for the Flagstaff, AZ community, which has left Back2Basics Sober Living residents and staff with their best season of winter outdoor sports since the treatment center's inception.
"Starting Friday and forecast through Tuesday, the five-day average temperature (lows vs. highs) will be 8.7 degrees, and the average high will be 21.6 degrees. That makes for the coldest five-day stretch so far this century and since at least 1990, according to the Weather Service." reported the AZ Daily Sun on January 13.
"It has been a great couple of weeks with practically 40 inches of snow to play in," said owner and CEO Roy DuPrez.
DuPrez has worked closely with the Outdoor Adventure Supervisor Chase Christensen to redirect the weekly health and fitness plan to include frequent trips to the Northern Arizona Snowbowl to cross country ski and snowboard.
Residents are provided with the gear and educated on safety for every sport. Within the Flagstaff community institutions such as Ski Haus and Northern Arizona University has supported these endeavors by providing sports equipment and Wilderness First Responder Training to staff and residents.
"We are fortunate to live in such a diverse climate where we get to see our residents take to both summer and winter activities," added DuPrez. "It really exposes them to a broad range of positive and actives things they can bring into their lives post-Back2Basics."