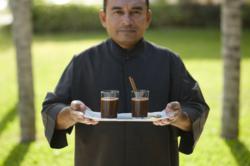 It will be a dining experience like no other in the region.
Punta Nizuc, Cancun, Mexico (PRWEB) January 30, 2013
The award-winning hotel chain, Las Brisas Hotel Collection announces the opening of their newest property, NIZUC Resort & Spa at the gateway of the Riviera Maya on the most desired land of the Mayan region called Punta Nizuc. The coveted resort is the first for the leading hotel group's elite brand and offers guests the opportunity to experience not only unsurpassed modern Mexican luxury, but to take part in the region's most exquisite fine dining, offered throughout the resort's six world-class restaurants.
Quickly becoming the destination for "foodies" around the globe who are planning a visit to the popular Mexican Caribbean region, NIZUC Resort & Spa features a variety of authentic international cuisines at its six on-site restaurants. One of these signature restaurants, Terra Nostra, is proud to announce that the most iconic chef from the Veneto region of Italy, Chef Daniele Tonin, will lead its culinary direction. Tonin´s heritage hails from Venice, yet his gastronomic expertise includes acclaimed establishments from Shanghai to Mexico City, and he will bring his unique vision and Mediterranean menu—inspired by only the freshest seafood and produce—to NIZUC´s Terra Nostra upon its opening in early 2013.
"True to his Italian origins, Chef Tonin´s menu showcases elegant "al fresco" dishes complemented with delicate homemade pastas and savory pizzas baked in the restaurant's own wood fire oven," says NIZUC's Executive Chef, Vincent Wallez. "It will be a dining experience like no other in the region."
Terra Nostra's menu will feature a variety of exceptional Mediterranean dishes including classic lasagne, souvlaki, eggplant parmesan and gazpacho; all prepared with Tonin's unique and flavorful twists. The menu also features fresh seafood entrees and delectable salads.
For information, updates and future package opportunities visit http://www.nizuc.com, contact your professional travel agent or call 1-855-NIZUC from the U.S. and Mexico +52.998.891.5700. NIZUC — A Mexican Spirit. A Mayan Soul.
Las Brisas Hotel Collection is world renowned for providing unparalleled personalized service and luxury accommodations in a warm, friendly environment in exotic resorts as well as city center locations. Las Brisas Hotel Collection is a proud Member of Preferred Hotel Group. For reservations please visit Las Brisas Hotel Collection or call 1-866-221-2961 & 1-800-323-7500.