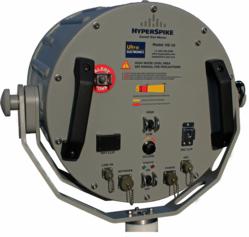 Columbia City, Indiana (PRWEB) January 30, 2013
Ultra Electronics – USSI announces today a major cruise line has chosen to use HyperSpike Acoustic Hailing Devices (AHDs) to protect five cruise ships. The HyperSpike AHDs will be used for maritime and port communication.
The cruise line purchased the HyperSpike HS-16 with an effective communication range of 1000 meters and beyond. The HS-16 has a peak acoustic output of 148 dB and has exceptional voice clarity with a Speech Transmission Index (STI) of 0.85 out of 1.0. The line-in cable on the HS-16 gives the operator the capability to use any commercially available MP3 player, to play a prerecorded message in any language to an approaching threat.
"Commercial maritime security has been a growing need," said Nathan Schueth, HyperSpike International Business Manager, "Companies are looking for cost effective ways to protect their investments. HyperSpike AHDs can be a vital part in communicating and determining intent of a potential threat."
The HS-16 is light weight, weighing only 49 lbs (22.23 kg), and can easily be transported to different areas of a ship. With a best-in-class size to power ratio, the HS-16 is the ideal choice for customers looking for an AHD that can penetrate high background noise environments and is easy to transport.
Ultra Electronics - USSI is an innovative global supplier of highly intelligible, ruggedized, long ranges acoustic communication devices, and high power and commercial speaker arrays. Being deployed world-wide, these products are used in diverse applications such as crowd control, mass notification, border/port security, law enforcement, maritime security, perimeter protection, and more. To find out more or request a demonstration, please visit http://www.Ultra-HyperSpike.com.