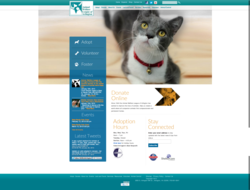 Whether we are highlighting adoptable animals, posting news updates or sharing an exciting event announcement, the enhancements to awla.org have provided us with the tools necessary for seamless engagement with our community and supporters
Arlington, VA (PRWEB) January 30, 2013
The Animal Welfare League of Arlington (AWLA) launched a new website today, http://www.awla.org, enabling the Arlington and D.C. metro area community to easily learn more about AWLA adoptable pets, news, events, community services and volunteer opportunities. The site now boasts a modern look and feel, as well as a suite of updated features, which enables AWLA to more easily communicate and engage with the community.
"Whether we are highlighting adoptable animals, posting news updates or sharing an exciting event announcement, the enhancements to awla.org have provided us with the tools necessary for seamless engagement with our community and supporters," said Susan Sherman, AWLA's Chief Operating Officer.
The site complements the iOS and Android mobile apps AWLA, which were released in 2012. The new site is built using fully responsive design which scales to work with devices of any size, from smartphones to tablets, laptops, desktops and anything in between. "More and more people are doing everything from their phones and tablets. The internet was always meant to be about the mobility of information, and we wanted to be sure that AWLA could get information to their audience no matter how that audience is accessing the information." said Max Lollar, Creative Director of Yoko Co., the firm that designed and built the website.
"It's a drop in the bucket of effort that AWLA puts in on a regular basis to help better the local community for people and animals alike." said Chris Yoko, Chief Executive Officer of Yoko Co. "At the end of the day the goal of a website is just to help the organization achieve their goals. I think the new http://www.awla.org will definitely help do that."