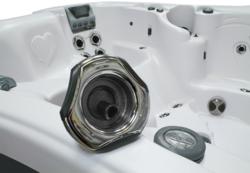 Vista, CA (PRWEB) January 30, 2013
A new year is here and that means new changes for Dimension One Spas (D1), the industry leader in hot tub innovation and design. D1 is starting off the year with two enhanced hot tub lines: the Bay and Reflections Collections.
The 2013 models embody a modern, sophisticated look with new colors and shapes. New accent jets have a patented shape and come in a metallic grey and titanium color blend. They are also completely customizable. Adjust each nozzle to increase or decrease power for a full hydrotherapy massage. Take out and exchange jets with a simple spin motion to customize your massage from any seat.
A new LFX package with Diamond Burst® lighting is also available featuring more points of multi-faceted light that create mood-enhancing colors and shadows.
To view pictures of the new jets on the 2013 Amore Bay, visit http://www.d1spas.com.
Company History:
Dimension One Spas (D1) is the leading manufacturer of award-winning hot tubs and swim spas and home to the world's first curvilinear spa. Family-owned and operated, D1 Spas is based in Vista, CA and sold through a network of dealers in the United States and worldwide. With over 35 years of experience, the company's four product lines and patented features offer a higher class of design, performance and value that meet a variety of consumer needs. For more information about Dimension One Spas, please visit: http://www.d1spas.com.