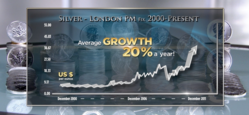 Whether we reference the rise of gold over the past decade or the dwindling supplies of silver left on the planet, these are quite simply the facts; and we want our customers to know them implicitly.
Scott Carter, CEO of Lear Capital
Santa Monica, CA (PRWEB) January 29, 2013
With their all-new, innovative "Keeping you Informed" video series, Lear Capital (http://www.learcapital.com) ushers in a new generation of consumer empowerment with respect to precious metals where knowledge can help customers not only make informed investment decisions but the right investment decisions. The "Keeping you Informed" series explores the common facts, historical perspective, and government policies that impact ownership of physical gold, silver and rare coins. Lear believes that by providing consumers with critical information about tangible assets … they can be better prepared to make educated choices with respect to their savings and their future!
"What we present in this series is valuable and informative," says Scott Carter, CEO of Lear Capital. "Whether we reference the rise of gold over the past decade or the dwindling supplies of silver left on the planet, these are quite simply the facts; and we want our customers to know them implicitly."
"Keeping you Informed" (http://www.learcapital.com/keepingyouinformed.html) explores the diversification, liquidity and upside potential of acquiring and owning precious metals. The videos address rolling a portion of your existing IRA account into a gold or silver IRA, understanding premium coins verses bullion, the Gold Recall of 1933 (by FDR) the supply and demand issues driving silver, Lear's Price Advantage Guarantee, and the impact of unsustainable federal spending.
With this comprehensive approach, Lear deconstructs the mystique of owning precious metals and offers practical data, clear comparatives, historical analysis and a full-disclosure approach to gold, silver, platinum, palladium and premium/rare coin acquisition.
Lear Capital (http://www.learcapital.com) has been America's Precious Metals leader since 1997 helping customers diversify their portfolios with bullion, premium rare coins, and by adding physical gold and silver to an existing IRA account. For investors looking to realign their asset allocation, maintain an aggressive hedge against global volatility, or secure tangible retirement protection, Lear Capital has a plan. They provide a personal account representative, a secure ordering environment, and a "real-time" investment relationship that keeps customers abreast of spot price, precious metals news, and economic events that impact savings and retirement accounts.
Lear Capital maintains an A+ rating with the Better Business Bureau and is a PCGS (Professional Coin Grading Service) Authorized Dealer. In addition, they abide by the NGC's (Numismatic Guaranty Corporation) coin grading Standard of Integrity, and support the ICTA (Industry Council for Tangible Assets) on issues of taxation, IRS regulations, and legislation that impacts all tangible assets.
Lear Capital can be contacted through their website at: http://www.learcapital.com or at 800-576-9355.