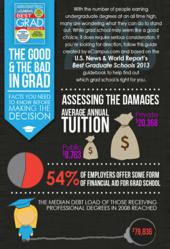 The material provided in U.S. News & World Report Best Graduate Schools is information students will wish they had caught many years later.
Lexington, KY (PRWEB) January 31, 2013
eCampus.com has released an infographic derived from the 2013 edition of US News & World Report Best Graduate Schools 2013 guidebook, which puts into context the ever-fluctuating value of getting an American graduate school education: as expected, results varied greatly across schools and industries, including the confirmation that the law school proposition has changed enough to urge caution.
The infographic (eCampus.com/best-grad-schools.asp) takes a close look into data selected from five professional graduate schools: business, health and medicine, law, engineering, and education: revealing disparities as well as critical macroeconomic data to help prepare students for what lies ahead in 2013 and beyond. Among the findings helpful to students on the fence are figures on average student loan debt. For those seeking professional degrees, the average debt load was $79,836. At that amount, to keep payments at 10% of their future income, students would need to earn $114,000 annually.
The data for the report is obtained from surveys given to academics, professionals and administrators across 1,200 schools. Matt Montgomery, CEO of eCampus.com, sees the importance of highlighting key figures that catch attention often and early. "As a portal selling cheap textbooks and rentals to students since 1999, we have grown to become a sort of advocate for students, constantly thinking about the financial logistics involved of academic study. The material provided in U.S. News & World Report Best Graduate Schools is information students will wish they had caught many years later."
By looking at data points beyond overall student debt, such as starting salaries and employment rates in the these five fields, the infographic also yields a quick picture of both bright spots and tough patches in the jobs market.
The 2013 U.S. News Best Graduate Schools issue is available for purchase at eCampus.com, for $8.95, which is cheaper than other outlets. It makes sense out of market happenings with in-depth reporting, to bring much-needed perspectives and facts so students can create sensible career paths.
eCampus.com frequently invests in content that educators, counselors, parents and students alike use, and has highlighted pertinent info from Best Graduate School into a key document in its gallery of infographics that relate to important aspects of student life.
###
About eCampus.com:
eCampus.com, a major online retailer, provides textbooks to consumers in the easiest, fastest and cheapest manner. David Thomas, founder of Wendy's, was one of eCampus.com's original founders in 1999. eCampus.com is committed to providing the best selection of deals to students at the college and university level.