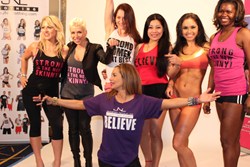 Today is a remarkable day for all fitness fanatics across the United Kingdom and Republic of Ireland. Aoife Mac Intyre, 2nd degree JNL fusion master trainer and the first Republic of Ireland fusion trainer has established and found JNL Fusion UK.
London, England (PRWEB) January 30, 2013
The JNL Fusion workout method and lifestyle keeps growing strong with the new addition of the United Kingdom Chapter, led by eating disorder nurse Aoife MacIntyre. The team of six elite JNL fusion master trainers includes women from Scotland, England, North and the Republic of Ireland. They each play complimenting roles within JNL UK. Alex Wilson, celebrity Northern Irish fitness model, bikini athlete, fitness and nutrition expert is head of model productions and promotions. Aoife Mac Intyre, eating disorder advisor has become president and founder of JNL UK. Faye Roberston, sports and exercise psychologist and business owner of " Fit Girl Factory" is appointed as head of PR. Natalie Innes, certified life coach becomes client consultant for the company and Bridget Taylor, documentarian, personal trainer emerges as the media representative and head reporter for JNL U.K. Finally the sixth member, their inspirational role model for JNL U.K, well- known established celebrity fitness model Jennifer Nicole Lee.
These women are passionate about imposing JNL fusion, the newest trend in exercise for 2013 on the United Kingdom. All six women have transformed their bodies with fusion, burning fat and building muscle in a fun thirty minute workout and want to share their story across the United Kingdom. The message they deliver is about motivation, inspiration and empowerment and will change the lives of their followers. Lead by the gorgeous celebrity fitness model Jennifer Nicole Lee and supported by the ever growing JNL fusion nation, watch out these girlies are ready to invade the UK with Fusion.
For more information, please visit http://www.JNLFusionFB.com