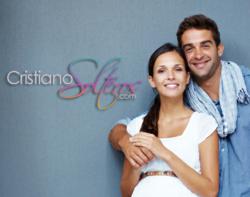 Providing first-rate customer service is our top priority at CristianoSolteros.com
Torrance, California (PRWEB) January 31, 2013
A rapid influx of subscribers to CristianoSolteros.com, a popular dating website aimed at Christian Latin singles, has prompted the expansion of the site's customer support staff to meet client needs.
"Our site's popularity has been steadily on the rise," says company spokesperson Maggie Danhieux. "Providing first-rate customer service is our top priority at CristianoSolteros.com, and the volume of clients and visitors to the site has reached a point necessitating the growth of our team that will respond to user inquiries."
The company's announcement comes on the heels of published reports stating employment rates are down in comparison to this time last year, making the new hires quite an achievement for the company. "Looking at the economic environment we're in and current hiring trends, we are extremely proud that we are able to members to our team," says Danhieux, attributing the website's success to recent inclusion of paid memberships that offer users more features and functionality than standard free subscriptions. "Like anyone else, our clients have committed to the service we offer, and we owe it to them to provide support that makes this experience worthwhile."
CristianoSolteros.com emphasizes the dedication of its members to forming committed personal relationships, a principle that it applied also to the hiring of its new staff members. "It was of the utmost importance that we hired right people for these positions," says Danhieux. "Since the service our website offers is so invaluable to our users, we searched extensively to hire people that are invested in making our clients dreams a reality."
About CristianoSolteros.com
Part of a leading Christian dating network established in 1997, CristianoSolteros.com is unique in its approach: all of its members are committed to seeking out long-term, faithful relationships. Unlike most dating sites, dating services within the network do not allow casual dating. The sites of this Latin dating community have gained great popularity and are frequented by Christians from all over the world. An approved member of the BBB online Reliability Program, Christian Singles Commitments Corp is committed to providing safe and secure online dating.