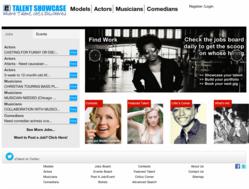 eTalentShowcase.com offers members a trusted space to land jobs and launch professional careers.
New York, NY (PRWEB) January 31, 2013
Getting a gig just got a whole lot easier for members of eTalentShowcase.com. The site, which connects emerging young artists with VIPs in the entertainment industries, revealed new job listings to help actors, models, musicians and comedians find the latest opportunities in their given industries.
The jobs board, part of a larger redesign, lists work by discipline and location to make it easy for its talent members to access casting information and job openings. As the entertainment industry grows more fragmented and finding jobs becomes more complex due to social media, an explosion of online content and the rise of indie opportunities, eTalentShowcase.com offers members a trusted space to land jobs and launch professional careers. Acting as curators of the latest opportunities in the entertainment industry, eTalentShowcase.com does the tedious corralling for its members, says Ed Olimpio, vice president of marketing. "A jobs board was the number-one resource that members requested," he says. "And we responded with a tool that is going to make it much easier for agents to find and hire our incredibly talented members."
The new look also includes a listing of events, critical reviews by industry professionals and original content that provides artist profiles as well as news and advice about managing careers and finding representation. Streamlined and easy to navigate, the revamped site continues to build its talent database where producers, directors, casting directors, club bookers and talent scouts can use multiple search criteria to discover performers for every position. In addition to searching and applying to job listings, talent members can create and update multimedia resumes to highlight credits, training, skills, new music, music videos, video reels, audio clips, headshots, photos links and more.
About eTalentShowcase.com
eTalentShowcase is a social media site that provides artists and entertainment industry professionals with powerful, intuitive tools to connect, promote and prosper online. The site offers job listings, free profiles, original content, contests and a base of active, engaged fans. eTalentShowcase, Where Talent Gets Discovered.