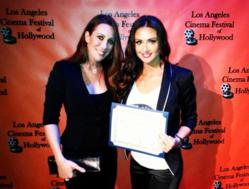 "Something needs to be done on behalf of those with no voice who depend on us to survive." said Katie Cleary, executive producer of Give Me Shelter.
Los Angeles, California (PRWEB) January 30, 2013
"Give Me Shelter," executive producer, actress and animal rights activist, Katie Cleary, gives a personal look at some of the world's most critical animal welfare problems. In her debut producing venture, Cleary called upon some of the most influential names in animal welfare to be a part of the film.
The film features the work that many individuals and animal organizations do through personal interviews and touching footage. "Give Me Shelter" illustrates like no other documentary before the shocking truth in regards to important issues in the animal world including; the underground black market trade of wild and exotic animals, puppy mills, poaching, animal abuse and neglect, conservation, the food we consume, the fur industry, the pet industry and many other pressing topics facing our world today.
"Give Me Shelter", directed by Kristin Rizzo in her directorial debut, has a film-noir feel that transforms it into a compelling docu-film which is what makes it such a unique piece. Cleary and Rizzo have been best friends since high school and composed this project as part of a lifelong dream to work together since they were young girls growing up in Chicago. The compelling cinematography was crafted by Edd Lukas (Casino Royale) and digital photographer, Kristina M. Schulte-Eversum (ParaNorman). Other animal rights advocates featured include Tippi Hedren (The Birds), Charlotte Ross (Glee), Jill Wagner (Blade), Elaine Hendrix (The Parent Trap) and many others. The Indiegogo campaign to contribute funding to this project is available at http://igg.me/p/322293
Cleary has been an animal lover her entire life and is known for her work with multiple animal rights organizations before founding her own non-profit organization in 2012, Peace 4 Animals, which raises funds and brings awareness to end animal cruelty, educate and inform the public on animal abuse and to rescue and rehabilitate threatened species in an effort to strengthen their chance of survival in the wild.
Cleary, especially passionate about protecting endangered species, says, "In order to save the rest of the 8.7 million different species of animals we share this planet with; something needs to be done on behalf of those with no voice who depend on us to survive." In November 2012, Cleary produced and co-hosted "Stars For Stripes," a gala to benefit the Satpuda Tiger Conservation Program in India to save the last 1500 wild tigers left there. Cleary's co-host was Alison Eastwood - actress, animal rights activist and daughter of Hollywood Icon, Clint Eastwood. "Stars For Stripes" also served as the debut public screening of the trailer for "Give Me Shelter." The year prior, Cleary produced the event "Diamonds Not Fur" hosted by Betty White to benefit the spcaLA and the Fur Free West Hollywood movement which was the catalyst to passing the Fur Free West Hollywood Bill two months after the event.
Peace 4 Animals is an animal welfare organization that works to protect all animals against harmful human interference around the globe. The organization helps to rescue, rehabilitate and find homes for domestic animals and also educate the public on the importance of rescuing animals from your local shelter rather than buying them from breeders or pet stores. As an organization for the protection of endangered species, they educate the public on how to co-exist with these magnificent species and how to protect exotic and wild animals in their natural habitats. Katie and Peace 4 Animals is currently developing a fashion line and a pet product line that will be rolling out in stores and online later this year