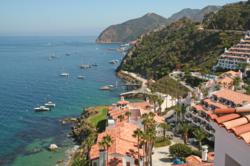 "Helping our guests plan their Catalina Island 'dream' vacations is a 'dream' job for me," says DeMyer.
AVALON, Calif. (PRWEB) January 30, 2013
Catalina Island Vacation Rentals ( CIVR), which offers the largest selection of vacation lodging on Catalina Island, announces the internal promotion of Janet DeMyer as Sales Manager to help vacationers plan perfect Catalina getaways.
"Helping our guests plan their Catalina Island 'dream' vacations is a 'dream' job for me," says DeMyer. "I love interacting with them all, whether they're looking for a family vacation, a romantic getaway, or they just want a care-free stay in one of our lovely, private homes."
Growing up in Connecticut and New York where she studied business at New York State University, DeMyer's career led her to Memphis where she opened a national sales office for her employer. She subsequently worked for a Memphis radio station and was credited with selling airtime and collaborating with various national advertising agencies.
"I really knew sales was my forte when I landed my biggest client, Coca-Cola Enterprises," says DeMyer. That was a milestone for me, and a day I will never forget."
Tying in with DeMyer's role, CIVR has instituted new sales and marketing technology as a better way for optimizing its guests' experiences. Recently CIVR introduced a new mobile app designed to enhance guest's Island stay, before, during and after their vacation. The app includes the latest information about events, new restaurants, spas, and activities.
"Santa Catalina has always been a magical place, and we're adapting ourselves to fit with its exciting resurgence," says Kevin Strege, CIVR's President and CEO. "The old island charm is still here and we are dedicated to ensuring we share it with those wanting to experience it for themselves. As sales manager, Janet's expertise will significantly aid in this endeavor."
An integral member of the CIVR team for several years, DeMyer maintains her dedication to help guests find the perfect vacation home to fit their needs.
About Catalina Island Vacation Rentals
Catalina Island Vacation Rentals, located in Avalon, represents nearly 200 private homes available for rental at one of Southern California's top vacation destinations. The homes include ocean-view villas, quaint beach cottages and well-appointed condominiums. Click here for CIVR's website: Catalina Island Vacation Rentals. Reservations may be made by calling (855) 817-9791.
Fact Sheet, Press Kit in CD format, and jpeg photos are available upon request.
-end-