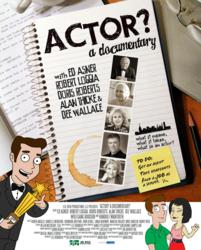 What does it mean, What does it Take and What do you have to do to be an actor
Chandler AZ (PRWEB) January 30, 2013
Actor? a documentary, is now in the last weeks of final post. This project from DB Rich Productions will be the world's first full length feature animated documentary.
Digital Image Studios in Farmington Hills, MI has done a masterful job in creating the perfect mix of animation with live interviews. They are in the process of creating the 75 minute version of this movie that will be shown at film festivals and film and acting schools.
Currently, this project has been entered into several film festivals for March thru May. It has interviews with such talents as Emmy and Oscar winner Ed Asner, Emmy Winner Doris Roberts, Alan Thicke, Robert Loggia, and Dee Wallace as well as hundreds of struggling actors from coast to coast.
It explores what it means to be an actor with frank answers of questions directed to actors known and unknown. It also gets advice from casting directors, Fern Champion (Emmy Nominated), Scott Wissner, Helen McCready, and Paul Weber.
The music producer Lee Rudnicki created an original sound to support this very unique project. Working with such talented people as Gavin Heaney, James Peterson, Guilherme Campellon, and Shawn Glyde, created a soundtrack like no other.
DB Rich Productions founded in early 2009 also has three other movies, Margarine Wars, a romantic comedy, Actor? a documentary, animated documentary and The Lighthouse, dramatic thriller. Margarine Wars is with Ytinifni for worldwide distribution, Actor? a documentary is completing post, and The Lighthouse is in post after wrapping last summer.