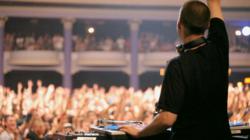 Kid Cut Up brings people together.
Los Angeles, California (PRWEB) January 29, 2013
Table Manners is proud to announce Milwaukee's finest, Kid Cut Up, has officially joined the Table Manners family. The ambitious DJ has been packing over 300 events per year, sometimes two in one night. He is arguably his hometown's best known and most well-respected DJ, having won both the 88NINE's 2009 Milwaukee's Listener Choice Awards 'Club DJ of the Year' and the Shepherd Express' 'Best Club DJ' award 4 years in a row. Playing sometimes up to five DJ residencies a week he has made spinning and producing his full time job, all working towards establishing himself as an artist. In turn, he has conquered and united the hip-hop, rock and EDM frontiers, fusing elements of each into danceable nightclub vibes that all types of people can get down to.
Kid Cut Up has played several music festivals including Summerfest, Soundset, SXSW, and Scribble Jam. He has competed in the invite only Redbull Thre3Style in 2012 and 2013 in LA. Kid Cut Up developed the official promotional mix for Common's album "Universal Mind Control". His work has been featured on Kanye West's "Univercity" blog as well as on datpiff.com and 2dopeboyz.com (just to name a few). Kid Cut Up's remixes have been played and featured on mixes by Z Trip, DJ Yoda, DJ Platurn, DJ Big Once, DJ Zebo and many others. He has also worked on FM radio, co-creating and curating the Mad Kids radio show on 91.7 WMSE for over 3 years, and continues to be an active member of the 89.5 Vocalo Radio Collective out of Chicago.
With plans to continue expanding his musical platform to all those with willing ears and movable feet, Kid Cut Up travels tirelessly across the country. When asked to sell himself in twenty words or less, the clever DJ came up with it in just six, answering "Kid Cut Up brings people together." We're extremely happy to say we can now officially bring the talented Kid Cut Up to the people and he'll definitely do the rest.