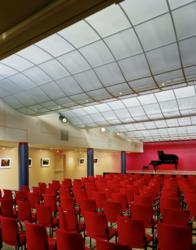 Our recital hall is crying out for recording capability. Well over 150 events take place in the hall each year, and we want to document each and every one of them.
White Plains, NY (PRWEB) January 30, 2013
Ten-year-old Christina Ferrari began studying violin at the Music Conservatory of Westchester in spring 2008, when she was just five. Her musical exploration with Conservatory violin teacher Su Jin Kwon at the White Plains not-for-profit music school fostered a deep appreciation of music and paid off -- literally -- for both parties last month. In the days leading up to Performathon, the school's day-long musical event in which students seek sponsors for their individual performances, the Armonk youth decided to raise funds the best way she knew how: playing her violin to the masses.
With her instrument in hand, Ferrari performed in front of commuters at the North White Plains train station starting at 6 a.m., and solicited funds for Performathon. Her inspiring gesture worked; she raised $1,150 and as a result of her efforts, scored a top prize at the event: an iPod Touch.
"She raised the money under her own motivation," said Tammy Ferrari, Christina's mother, who accompanied her daughter on the fundraising trips to the train station. "She felt committed to raise money for the school because it's helped nurturer her love of music."
Held biennially since 2001, Performathon showcases the Conservatory's youth and adult students performing all styles of music – from classical and rock to jazz and opera – in a variety of solo, chamber, and ensemble settings. Ferrari was one of over 200 who performed in the Conservatory's Recital Hall.
"Performathon was a huge success – a real celebration of everything our school stands for. Our students' and faculty's dedication, hard work, and love of music were on full display that day," said Jean Newton, Executive Director for the Conservatory. "As for Christina's efforts, it served as an inspiration and made the event all the more special."
The funds raised from this year's Perfomrathon will go toward a specific project: the installation of digital recording equipment in the school's Recital Hall, which will enable students to have a record of their performances, use their recordings as part of the learning process, and allow older students to make college audition tapes. It will also allow for other organizations to use the hall to record their events, and well-known artists and bands will be encouraged to record demos in the space. The equipment will be the first of its kind for the school and will cost more than $10,000.
"The Recital Hall is a beautiful space with terrific acoustics, and it's really crying out for recording capability," Jean Newton explained. "Well over 150 events take place in the hall each year, and we want to document each and every one of them."
The Conservatory raised over $6,000 from Performathon with an additional $3,000 coming from a Kickstarter.com campaign that preceded it. Sponsors of Performathon provided additional funds to support the event, adding to the grand total raised by Conservatory students and on Kickstarter. TD Bank was the leading sponsor for this year's Performathon. Other event sponsors included Grand Prix New York, the Digital Arts Experience, and Green Mountain Energy.
An alumni concert and reunion scheduled for June 1st is one of many Conservatory events that will be recorded using the new equipment. They are currently seeking to reconnect with alumni across the generations to get involved and attend the event. If you are an MCW alum or know of anyone who might be interested, you are encouraged to contact the Conservatory at info (at) musiced (dot) org.
About the Music Conservatory of Westchester
Founded in 1929, the Music Conservatory of Westchester (http://www.musicconservatory.org) is a non-profit community music school providing individual and group music lessons and music therapy for people of all ages and abilities. The Conservatory's 36,000- square-foot facility in White Plains contains a Recital Hall and 43 acoustically designed classrooms and teaching studios. In addition to individual lessons, their comprehensive programs, which serve 3,700 students annually, include performing ensembles, musicianship classes, student performances, master classes, workshops, and more. All students receive free admission to the Conservatory's annual series of faculty recitals and children's concerts. The Conservatory hosts live music events monthly and is chartered by the New York State Board of Regents, is a member of the National Guild of Community Schools of the Arts, and is fully accredited by the National Association of Schools of Music.