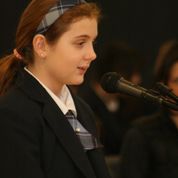 Bob Hauwiller of Orland Park, commented that, "Working with these students at Everest makes us feel that we are making a great contribution toward the future of our country."
Lemont, IL (PRWEB) January 29, 2013
Students at Everest Academy lived out their school motto "Always Higher" during the competition in their Annual Spelling Bee. The Spelling Bee was sponsored by the Knights of Columbus Crusaders Council from Our Lady of the Woods Parish in Orland Park, which provided the judging and delivery of words under the direction of Grand Knight Bob Hauwiller. Preliminary contests were held in each classroom from Kindergarten through grade eight, providing classroom semi-finalists that competed in the whole school Spelling Bee.
The winning word for the entire school competition was 'beatitude' after the young 5th and 6th grade students correctly spelled planetarium and manuscript. The semi-finalist words for the 7th and 8th graders were cerebellum, parliamentary, and herbaceous.
The winners included Kindergartener: Andrew Barwick of Lemont; Grade 1: Gia Perme of Lemont; Grade 2: Katie Colarelli of Lockport; Grade 3-4: Victoria Ligas of Lemont; Grade 5-6: Dianna Foran of Homer Glen; Grade 7-8: Brian Trochuck of Homer Glen. Spelling Bee judge, Bob Hauwiller of Orland Park, commented that "The Knights of Columbus considers it a privilege to support teachers, parents and students on their journey of lifelong learning. Working with these students at Everest makes us feel that we are making a great contribution toward the future of our country."
Everest Academy hosts a number of friendly in-school competitions throughout the year such as the Spelling Bee, Catechism Contest and Poetry Recitation Contest. They also host competitions that prepare the students for regional and national competitions, such as the National Geographic Geography Bee and the Science Fair. "These contests help the students build confidence, to strive for and achieve academic excellence," stated Ms. Christine Gamache, Principal.
Everest Academy is an independent Roman Catholic school in Lemont educating children from preschool through eighth grade. The teachers and staff are dedicated to forming the whole child by providing the highest level of academics, by building strong character, and by preparing generous leaders ready to serve the community. To learn more about Everest Academy's winning approach to education, please contact Coleen Mast at 630-243-1995 or visit http://www.everestadvantage.org.