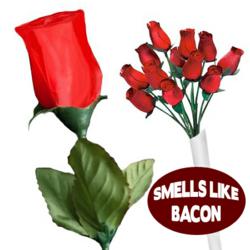 Stupid.com has made shopping for men this Valentine's Day so much easier, with Bacon Scented Roses, and many more wacky gifts.
Los Angeles, CA (PRWEB) January 31, 2013
When it comes to Valentine's Day, finding the perfect gift for a guy can be enough to dishearten even the biggest romantic.
This year, however, come February 14th, there's one way guaranteed your man's heart will flutter, and all it takes is trading in a little cupid for some stupid.
Stupid.com, internet retailer of funny gag gifts and novelty gifts, has unleashed their most crazy and funny Valentine's Day gifts ever, all of which are sure to tickle his funny bone.
Here's 7 of the newest, funniest gag gifts for Valentine's Day, currently available at Stupid.com
Bacon Scented Roses – Women love roses and men love bacon, it was only a matter of time until someone mixed the two together. These roses smell just like bacon, they will have your heart warming and your mouth watering at the same time.
Emergency Bowtie – There is no classier holiday than Valentine's Day and no classier men's accessory than the classic black bowtie. This emergency bowtie can turn any dull night into the most amazing night of your life, guaranteed.
Vinderpants – It's a weird name, but Vinderpants are a pair of underpants for your wine bottle. What man doesn't want a warm pair of underpants wrapped around his chilled Pinot Grigio
Dirty Valentine's Day Conversation Hearts – Do you remember your first box of little candy hearts with sweet little comments on them like "Be Mine". Well, these little candy hearts you will definitely remember, and so will he.
Lipstick Kissed Toilet Paper – Send your gentle kisses with him every time he goes and takes care of business. This toilet paper is sure to "crack" him up.
Rate-A-Date Notepad – Some men need to know just how great the lady in their life is. Introducing, the Rate-A-Date Notepad, now you can judge your date as superficially as you want, and what better night than Valentine's day.
Inflatable Date Judy – Not all guys have dates for Valentine's Day. Stupid.com is here to help, if you know a guy who could use some company this Valentine's Day, Judy is available.
About Stupid.com
Since 1998, Stupid.com has been spreading laughs around the world, one funny gift at a time. Today, with over 2,000 unique gag gifts and 200 crazy shopping categories, the company is the online industry expert in finding the most outrageous handpicked stupidity on planet earth, and bringing it to the masses. Stupid.com-
Shop for Laughs!