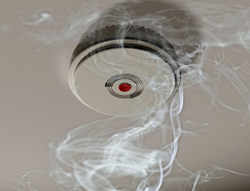 "Human lives should never be risked because a [fire alarm] product is still in its development phase." -- Thomas Sansone Sr.
Clifton, NJ (PRWEB) January 30, 2013
In today's world full of technology, security is continually improving.  Metal detectors, entry systems, and even fire alarms are making strides every year to better protect those who install them. However, technological improvement does not happen overnight and malfunctions will always occur as part of the development process.  For something such as a video game, trial and error is perfectly fine.  Technology that involves human safety is another story, because there is only one chance to get it right.
According to The Ridgefield Press,The Ridgefield Fire Department of Ridgefield, Connecticut recently reported that nearly 10% of their calls are the result of false alarms.   The term false alarm, in this case, refers not to someone placing an unnecessary 911 call, but to an automatic alarm system that is not working properly.  A malfunction in the system will signal a fire emergency when there is no actual problem to be addressed.
Although fines are often levied to repeat offenders, the annual cost of false alarm responses is overwhelming.  The Houston Fire Department reports that each false call costs them around $300.  This is taxpayer money that is simply being wasted because of faults in the alarm systems.  It is funding that could be put to more productive use, such as new safety equipment or training.
However, there are worse prices to pay than wasting taxpayer money when it comes to false alarms.  The biggest issue for firefighters all over the country is that it takes away from other serious fire calls that require attention.  Lives may need to be saved elsewhere, but resources are being used to respond to a fake emergency.  Fire departments, such as Ridgefield's, are developing strategies to act differently toward automated alarms, but this is only a temporary solution.
Thomas Sansone Sr. of T&R Alarm Systems Inc in Clifton, NJ confirmed the emphasis that must be placed on automatic alarm functionality.  "Human lives should never be risked because a product is still in its development phase.  To release any product that has not been rigorously tested for real use is reckless and irresponsible.  'Working out the kinks' is something to be done long before families and businesses begin installing the system."  
T&R Alarm Systems Inc is a company that has been serving Northern New Jersey and New York's security and alarm needs since 1971.  Having worked with high profile companies such as NJ Motor Vehicle and Berkeley College, their products and services are highly praised for their quality.