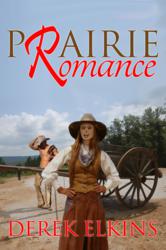 Holmen, Wisconsin (PRWEB) January 30, 2013
Bard and Book Publishing has released the latest work from award winning author Derek Elkins. Themed perfectly for the upcoming Valentine's Day holiday, "Prairie Romance" is a parody that follows the story of Jolene, who just lost her father and is now being pressured by the Mayor to either sell him the dirt farm or marry him. After rejecting the Mayor's advances, she is saved at the last minute by the handsome stranger known as Hank.
Elkins is also the author of other works through Bard and Book Publishing, including: "How To Take Over the World and Enslave Mankind Using Common Household Items, Book One: Your Own Personal Undead Army", "The Trouble with Bricks", "Bedlam's Door", "Three Conversations" and others.
Elkins was also the first place winner of the Athanatos Christian Ministry 2012 Novel Contest for his book, Life Unworthy of Life.
Prairie Romance is currently available for download on Smashwords.