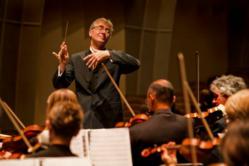 "What a delight to be able to be in Carmel and enjoy such beautiful music."
-2012 Audience member
Carmel, CA (PRWEB) January 30, 2013
The Carmel Bach Festival (CBF) will present its 76th Annual Festival, July 13 – 27, 2013, in various venues throughout Carmel, Monterey, Pebble Beach and Salinas, California. This year's festival features over 45 events including main series concerts, recitals performed on period instruments, and a Music and Ideas series. Music Director and Conductor Paul Goodwin, in partnership with artistic leadership, has programmed a Festival based on the connection between French music and J.S. Bach. Complete programming is attached.
Highlights of our 2013 Festival include:

An opening night concert that includes works by J.S. Bach, George Frederic, Handel, Gabriel Fauré's glorious Requiem and a commissioned piece by Thea Musgrave. Musgrave, an 84-year old female Scottish composer, has written both opera and classical music and was a student of Nadia Boulanger and Aaron Copland.
Wednesday evening concerts, once again at the magnificent Carmel Mission Basilica, currently celebrating the 300th Anniversary of founder Father Junipero Serra.
Pianist Stephen Prutsman joined by members of the Bach Festival orchestra for a Jazz crossover concert on Thursday evenings – back by popular demand. Prutsman will also present a lecture series on the effects of music on the brain, and the importance of music in healing conditions such as autism, Alzheimer's and PTSD.
Fabulous selections of French music, including Berlioz's Symphonie Fantastique and highlights from Bizet's Carmen and the Festival debut of Canadian soprano Dominique LaBelle
A celebration of David Gordon, our beloved dramaturge, in his 25th season with Carmel Bach Festival. Gordon, a noted Bach historian, is also the author of an upcoming biography of the festival's founders, Dene Denny and Hazel Watrous.
Tickets go on sale to the general public on March 1, 2013. Prices range from $15 – 85.
For more information on Carmel Bach Festival, visit:
http://www.bachfestival.org
For more information on Music Director Paul Goodwin, visit:
http://www.askonasholt.co.uk/artists/conductors/paul-goodwin