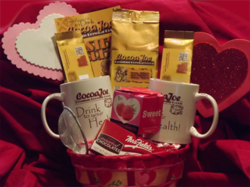 "CocoaJoe premium organic drinking cocoa retains the cocoa beans original natural health benefits, unlike processed cocoa beans that tend to lose most, if not all of their health benefits during processing."
Denver, CO (PRWEB) January 31, 2013
CocoaJoe, LLC, a Denver, Colorado company offers 100% natural, organic, healthy drinking cocoa. All natural drinking cocoa offers a much healthier option to chocolate and commercially processed cocoa powders. As consumers continue to seek out and demand organic and less processed foods, CocoaJoe's organic drinking cocoa provides a healthy alternative to commercial chocolates and cocoa powders, with no added ingredients or chemical processing. Valentine's Day, which is just around the corner, means increased sales of chocolate. In the U.S. alone, more than 58 million pounds of chocolate candy are sold during Valentine's week. That's $345 million in sales in just one week and 5% of total chocolate candy sales for the year, according to Nielsen research.
CocoaJoe offers a healthy alternative to choclolate this Valentine's season with premium drinking cocoa made from 100% all natural, organic cocoa beans that have been naturally fermented, oven roasted and ground. The product is as easy to prepare as coffee or tea. Simply brew the ground cocoa beans in hot water then pour through a strainer into a cup and drink. Healthier milks and sweeteners such as coconut or almond milk, and Agave or Stevia can be added according to taste preference. The smooth chocolate taste satisfies cravings without the unhealthy aspects of consuming dark or milk chocolate or other chocolate confections and pre-sweetened cocoa powders.
The health benefits of dark chocolate and cocoa have been extensively researched and covered in the media. However many people are confused on the health benefits of natural cocoa versus dark chocolate, erroneously attributing the same health benefits to both. Commercial dark chocolate contains ingredients that add fat, sugar and calories. And too much can contribute to weight gain, a risk factor for high blood pressure, heart disease and diabetes, according to the MayoClinic nutritionist, Katherine Zeratsky, R.D., L.D.
In stark contrast to this 100% all natural, organic, healthy drinking cocoa contain no added ingredients, are naturally high in antioxidants, minerals, vitamins, and low in calories. "CocoaJoe premium organic drinking cocoa retains the cocoa beans original natural health benefits unlike processed cocoa beans that tend to lose most, if not all, of their health benefits during processing." Stated Thomas Schumacher, Founder and CEO of CocoaJoe, LLC.
According to a study sponsored by the University of Utah posted on ClinicalTrials.gov, Cocoa (without added processed sugar) has all of the following beneficial effects:
1. Increased vascular reactivity.
2. Improved arterial compliance.
3. Increased HDL-C levels.
4. Decreased oxidation of LDL.
5. Reduced insulin resistance.
Many consumers are just beginning to discover this great tasting, healthy beverage as the company continues to educate consumers on the health benefits and attempts to change perceptions of hot cocoa from one of sweetened, dairy filled, high calories and unhealthy to one of all natural, great tasting, low calories and packed with numerous health benefits.
This Valentine's Day you can give your sweetheart a healthy chocolate treat instead of the standard box of chocolates, with CocoaJoe's heart healthy gift baskets or packaged bags available in half pound, full pound, or 2 ounce sample sizes. In the spirit of the holiday, CocoaJoe will be giving away 2 gift baskets based on a random selection of winners from all entries submitted by 12:00 AM MST February 14, 2013. To increase awareness and encourage more people to try the product, the company is also offering 2 ounce samples for a nominal shipping and handling charge of $3.00 for a limited time. To order or to enter the gift basket give away go to http://www.drinkcocoajoe.com.
About CocoaJoe, LLC
CocoaJoe is a Denver-based company that produces hand-crafted, artisanal batches of 100% natural and organic premium brewing cocoa. The company is dedicated to educating the world on the health benefits and great taste of this new, yet ancient, beverage. CocoaJoe endeavors to improve the world one cup at a time. The company is committed to purchasing organic cocoa beans from Fair Trade and ethically traded and sustained farmers. To learn more about CocoaJoe or to order their premium, organic brewing cocoa visit http://www.drinkcocoajoe.com