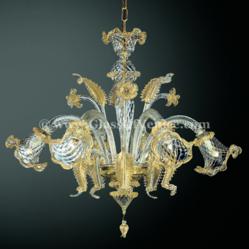 GlassOfVenice presents ten different series of murano chandeliers to compliment any décor, ranging from modern and airy to art deco to traditional, all with distinctive Italian flair.
Glen Rock, NJ (PRWEB) January 30, 2013
GlassOfVenice, the world-class importer and direct distributor of Murano Glass, is pleased to conveniently offer exquisite Murano glassware on its user-friendly website at GlassOfVenice.com. GlassOfVenice offers a wide variety of glassware, including art pieces, jewelry and cufflinks, glasses and barware, tableware and accessories, all from the famous glassmaking island of Murano in Italy. However, the most exciting offering is a new selection of brilliant murano chandeliers. GlassOfVenice presents ten different series of chandeliers to compliment any décor, ranging from modern and airy to art deco to traditional, all with distinctive Italian flair. GlassOfVenice's pieces are composed of many types of glass, including crystalline, glass with threads of gold, milky glass, enameled glass, and multi-colored glass known as "Millefiori," or "millions of flowers."
Much of Murano Glass from is made with the Lampworking technique rather than the glassblowing technique with which most people are familiar. Lampworking involves softening the glass with a torch and folding, shaping and pulling, resulting in a more sculpted look than glassblowing. Murano glassmakers have been producing glass on Murano Island near Venice in this way for more than 720 years. GlassOfVenice's mission is to partner with artists, artisans, and craftsmen to import these objects of art and beauty and make them available to those with a passion for glassware of exceptional design. Over the past five years, GlassOfVenice has grown to be the world's leading distributor of glass from the Murano region, known for its customer service and attention to detail as well as its unique products.
GlassOfVenice's management team frequently visits Venice and Murano to locate unique and exclusive new pieces to add to its online offerings. In addition, the company is eager to seek out items based on customer requests. GlassOfVenice is an experienced importer, and is keen to honor customer requests and provide excellent customer service. Customer testimonials indicate a strong demand for repeat business. GlassOfVenice also provides service to wholesale customers at MuranoGlassWorld.com.
GlassOfVenice's careful attention to selection of Murano Glass pieces combined with its well-designed distribution system online makes it unique in the glass retail industry. Visitors to the GlassOfVenice site find clear information organized with large pictures of the products and the ability to adjust how many selections appear on a page. The website is frequently updated with specials and holiday sales and the collections are organized for easy browsing or searching. A connected blog is regularly updated with the information about the history of Murano Glass as well as contests and prizes. Complete with YouTube videos on glassmaking and connections to Facebook, Twitter, and other social media, GlassOfVenice has taken a modern approach to sharing an ancient tradition.