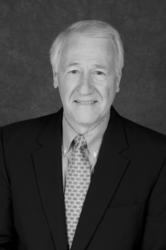 Raleigh, NC (PRWEB) January 30, 2013
Attorney Robert A. Wicker received the Order of the Long Leaf Pine at a ceremony in Greensboro, North Carolina. On behalf of Governor Beverly E. Perdue, former Lieutenant Governor Dennis Wicker presented the award to his brother. In attendance was Wicker's wife, Judy, formerly Manager – Community Relations at the News & Record, his three adult children, daughters-in law, grandchild, and a small group of friends.
The Order of the Long Leaf Pine is among the most prestigious awards presented to a civilian by the Governor of North Carolina in recognition of an individual's extraordinary service to the state, contributions to the community or extra effort in a career.
Wicker is the Executive Vice President, General Counsel and Secretary of General Parts International, Inc., one of the largest privately owned companies in North Carolina. Previously, he was General Counsel at Burlington Industries, Inc. He served as a member of the North Carolina State Ports Authority for five years and was instrumental in the creation of the North Carolina State Ports Authority Foundation.
Prior to joining the corporate sector, Wicker was in private practice for nearly 20 years. Further, he served as a councilor from the 18th Judicial District and was President of the North Carolina State Bar. He also served as a delegate for four years to the American Bar Association House of Delegates and chair of the State Bar's Client Security Fund. Wicker was also a member of the State Bar's Board of Trustees of the Interest on Lawyer's Trust Account Program.
In addition to his civilian legal career, Wicker served five years as a Captain in the United States Army Judge Advocate General's Corps.
In October 2012, Wicker completed a term as President of the UNC Law Alumni Association. He was named as the winner for the 2013 Legal Elite - Corporate Counsel in Business North Carolina. He is a Life Fellow of the ABA Foundation and serves as the Lead Gifts Chair for the North Carolina State Bar Foundation. Wicker is a member of the Executive Board of the Occoneechee Council of the Boy Scouts of America and is a member of the Raleigh Rotary Club.