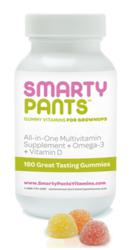 LOS ANGELES, CA (PRWEB) January 30, 2013
Kids begging to take their vitamins may sound like a fantasy, but SmartyPants Vitamins has refashioned the nutritional experience for kids into an enjoyable one for both children and parents alike. The first and only truly all in one gummy vitamin, SmartyPants contains a full multivitamin with Omega 3s and vitamin D in each serving and has set a new standard for children's nutritional supplements. Using the highest quality, eco-friendly, natural and organic ingredients, SmartyPants for Kids is the only multivitamin plus Omega 3s and vitamin D gummy vitamin available in one serving.
Loaded with 150 percent of the US RDI (Reference Daily Intake) for vitamin D, plus nine other nutrients, SmartyPants for Kids provides a good daily source of Omega 3s DHA and EPA (essential fatty acids) from environmentally friendly small fish oil, as well as an excellent source of Vitamin D, Vitamin C, Vitamins B12 and Folic Acid.
Researched and developed over a period of two years, SmartyPants were created by parents and health care practitioners who wanted their own kids to get all the key nutrients they needed in one easy serving. These yummy vitamins are made with the most bio-available ingredients to ensure the vitamins and micronutrients children take can actually be absorbed by their bodies and contain no artificial flavors, colors or preservatives.
Gluten and casein free, SmartyPants Gummy Vitamins are sweetened with organic cane sugar and tapioca, not high fructose corn syrup. Naturally flavored in scrumptious orange, lemon and cherry, they are topped with only five grams of certified organic cane sugar per serving (4 gummies) that keep the gummies from sticking to each other, to little hands or to teeth and allow the vitamins to be taken at any time of day, with or without food. The products contain no iron to ensure safety and are made in California in a GMP certified facility and placed in BPA free bottles.
Sourcing and pricing the best ingredients, SmartyPants' developers found that if a parent were to buy separately the high quality version of nutrients found in a single child's serving of SmartyPants - a multivitamin, a Vitamin D supplement, and an Omega 3 supplement – it would cost them double the price of a 30-day supply of SmartyPants Gummy Vitamins for Kids.
"We know parents just want to make sure that everything their kids put in their bodies is safe and healthy," explained Courtney Nichols Gould, Co-CEO and Co-Founder of SmartyPants. "We know that despite parents' best efforts, our kids diets invariably have some gaps so nutritional supplements are essential. I was intrigued by all the research that pointed out the critical importance of nutrition for brain, as well as body development, but knew that if it wasnt easy to take or a good taste experience for kids, no amount of begging would help. There was no affordable solution that would provide the top quality and the right mix of ideal, premium nutritional ingredients. So, we created SmartyPants to solve our and other parents' problem too."
http://try.smartypantsvitamins.com/premium-kids-gummy-multivitamin-omega-3-vitamin-d3/
Nichols Gould pointed out SmartyPants' mission is to help not only their own customers, but kids everywhere who need, but can't afford the nutrients so critical for their development. "SmartyPants set a goal to help 1,000,000 kids in five years through its matching program providing a month's worth of nutrients to a child in need for every bottle we sell through our partnership with Vitamin Angels. The United Nations and the World Health Organization agree that with micronutrient supplements and clean water, 90 percent of childhood mortality could be eliminated."
Endorsed by leading pediatricians, family practitioners and dentists, SmartyPants Gummy Vitamins for Kids are available online at http://www.smartypantsvitamins.com. The website contains a wealth of information about SmartyPants and nutrition for children.
# # #
EDITOR'S NOTE: To speak with Courtney Nichols Gould, Co-CEO and Co-Founder of SmartyPants, or to obtain more information about SmartyPants Gummy Vitamins, please contact Nancy Trent or Pamela Wadler at (212) 966-0024.