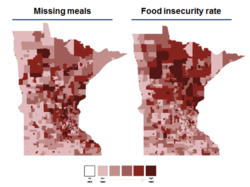 Minneapolis, Minn. (PRWEB) January 30, 2013
Hunger-Free Minnesota announced today that it is accepting Requests for Proposals (RFPs) for Community Close-Up grant awards up to $50,000. Community Close-Up is a data analysis tool developed by The Boston Consulting Group in conjunction with Hunger-Free Minnesota. It combines data on food insecurity and missing meals within each census tract in Minnesota. The application for the grant award must incorporate use of the data.
The Community Close-Up data has been presented to a number of hunger-relief agencies across the state. Family Pathways, a nonprofit serving communities in Chisago, Isanti, Pine, Kanabec, and Mille Lacs counties, plans to apply for a grant to start a new mobile pantry.
"The Community Close-Up analysis that Hunger-Free Minnesota reviewed with us is tremendous," said Rich Smith, executive director, Family Pathways. "We already had an idea about where the greatest need in our community was, the data not only confirms what we thought, it also gives us a more detailed insight into exactly which neighborhoods and how many meals are needed there, and by what kinds of groups—the percentage of seniors or families with kids, for instance."
Two types of grant awards will be available:

Planning grants up to $5,000 will support efforts to take ideas for closing the missing meal gap and create an action plan.
Implementation grants of $20,000 to $50,000 will support putting such plans to work.
Nonprofits, school districts, counties and other organizations may request data presentations from Hunger-Free Minnesota before submitting grant applications. Hunger-Free Minnesota staff members are available to provide assistance in using the Community Close-Up analysis tools. Staff also will help to secure matching funds for programs with budgets exceeding $50,000.
"The new data analysis gives every food shelf, meal program, food bank, school district and community the opportunity to review its own service area and determine its own meal gap," said Ellie Lucas, chief campaign officer, Hunger Free Minnesota. "This kind of data-driven information, which is the basis of the Hunger-Free Minnesota campaign, is invaluable in making informed decisions about ways to meet a community's missing-meal needs."
The grant awards are made possible by generous contributions to Hunger-Free Minnesota from General Mills Foundation and UnitedHealth Group. For more information or to apply for a grant, visit http://hungerfreemn.org/grant-funding.
About Hunger-Free Minnesota
Hunger-Free Minnesota is a time-limited campaign to close the 100 million missing-meal gap in Minnesota. Among its partners and supporters are community leaders and citizens, nonprofit agencies and organizations, food banks, food shelves, and corporations. Research partners include The Boston Consulting Group and EnSearch, Inc. Hunger-Free Minnesota's strategic action plan focuses on emergency food system capacity, the Supplemental Nutrition Assistance Program (SNAP), and child hunger and nutrition. The campaign encourages individuals and organizations to "Fight Hunger Where You Live." More information is available at http://www.hungerfreemn.org.
About General Mills
General Mills is one of the world's leading food companies, operating in more than 100 countries. Its brands include Cheerios, Fiber One, Häagen-Dazs, Nature Valley, Yoplait, Betty Crocker, Pillsbury, Green Giant, Old El Paso, and Wanchai Ferry. Headquartered in Minneapolis, Minnesota, USA, General Mills had fiscal 2012 worldwide sales of US $16.7 billion.The mission of the General Mills Foundation, celebrating 59 years of giving, is to nourish communities. Continuing its tradition of generous giving and global community support, General Mills contributed more than $143 million to charitable causes in fiscal year 2012. General Mills invests in and collaborates with community organizations and programs that focus on alleviating hunger and advancing nutrition wellness. To learn more, visit: Facebook.com/GeneralMillsGives or GeneralMills.com/en/Responsibility/Community_Engagement.
About UnitedHealth Group
UnitedHealth Group is a leading health care company, serving more than 75 million people worldwide. It provides health care management, consulting and specialty services globally through its six businesses — UnitedHealthcare Employer & Individual, UnitedHealthcare Medicare & Retirement, UnitedHealthcare Community & State, OptumHealth, OptumInsight, and OptumRx. The company's United Health Foundation provides grants to organizations that support health care initiatives aligned with its mission and priorities, one of which is to create healthier communities — a priority it shares with Hunger-Free Minnesota. http://www.unitedhealthgroup.com
About The Boston Consulting Group
The Boston Consulting Group (BCG) is a global management consulting firm and the world's leading advisor on business strategy. We partner with clients from the private, public, and not-for-profit sectors in all regions to identify their highest-value opportunities, address their most critical challenges, and transform their enterprises. Our customized approach combines deep insight into the dynamics of companies and markets with close collaboration at all levels of the client organization. This ensures that our clients achieve sustainable competitive advantage, build more capable organizations, and secure lasting results. Founded in 1963, BCG is a private company with 78 offices in 43 countries. http://www.bcg.com