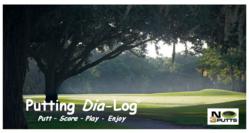 "The more knowledge you have of your putting the better off you are going to be as a putter" - John Hughes, National Director of Instruction, Advantage Golf SchoolAdd a quotable
Fort Collins, Colo (PRWEB) January 30, 2013
Most golfers do track their putting, so they have no idea where they stand and have no focus in their skill development. Golfers must track their putting to develop a plan with their local PGA Pro to develop an better understanding of their skills and were they need to improve. No 3 Putts Golf introduces the Putting Dia-Log© putting and scoring booklet to help golfers record actual putting and scoring during their rounds, including putt accuracy and distance. This vital information can then be discussed with their local PGA pro to identify opportunities to improve both putting, scoring and course management.
The copyrighted Putting Dia-Log© booklet contains 24 specially designed recording sheets to record not only strokes, but accuracy and distance for each putt. This data is easily summarized and graphed for display and dialog with a local PGA pro. Usage of the Putting Dia-Log© can help all golfers improve their putting, have lower scores, enjoy the game more and then play more golf.
Putting Dia-Log© is a companion piece to the ground breaking book on putting "No 3 Putts; What the Pros Really want you to know to improve your putting". The Putting Dia-Log© booklet and the No 3 Putts book can be easily customized for golf tournaments, courses, schools, sponsors, leagues, charities, clubs and businesses catering to the golfer.
David "No 3 Putts" Perry is author of No 3 Putts, No 3 Putts Tournament Edition and now Putting Dia-Log©. For further information on No 3 Putts Golf, visit the website http://www.no3puttsbook.com or contact the author at dave@no3puttsgolfevents.com