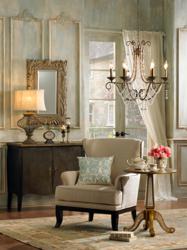 Muted tones and soft fabrics are highlighted by bright crystal and mirrors.
Los Angeles, California (PRWEB) January 31, 2013
As people gear up for Valentine's Day, the Design Team at Lamps Plus is examining the top romantic lighting and decor trends of recent years. The result? French decorating has long been the preferred decor "d'amour." Evoking the elegance and glamor of Paris, this iconic decorating style is surprisingly easy to achieve, making it perfect for a romantic room makeover that, unlike a dozen red roses, lasts all year long.
"Most people have heard the phrase 'Paris is for lovers,'" explains Manja Swanson, Vice President and Designer at Lamps Plus. "The city of love and lights has served as the world's romantic destination for more than a century, and it's for that reason that we use the French decor style as inspiration for creating a romantic room. This is a lasting look that our customers return to time and again."
Swanson elaborates, "The French style is timeless and comfortable, marrying muted tones and soft fabrics with bright crystal." To help customers get started, LampsPlus.com has created a "French Refined" look on its newly-launched Shop By Trend page, a resource showcasing the latest home decorating styles for any living space. The collection highlights a range of mix-and-match, complementary products in lighting, furniture and other home accessories.
For lighting, one fixture above all others stands out as quintessentially romantic: the chandelier. With antiqued finishes and crystal accents, chandeliers are ideal for creating a romantic atmosphere. "A distressed finish adds charm and the illusion of heirloom quality," explains Swanson. "The elegant theme that crystal chandeliers establish can be easily incorporated throughout the room with glass candle holders, vases or other small home decor accessories."
For a DIY chandelier style, Lamps Plus offers a lamp shade adapter kit, allowing people to transform their favorite lamp shade into a swag style chandelier. And because room ambience is about both light and its intentional absence, Swanson also suggests using wall dimmers on ceiling lights for added control.
Mirrored tables and other furniture maintain the chic French style. Whether polished or aged, the bright surfaces create visual interest by reflecting the light from throughout the room. Explains Swanson, "Side and console tables, or a glamorous bar cart, are good examples of how to incorporate this element into your home decor."
Lastly, fabrics and pillows round out the romantic interior, offering the soft and stylized finishing touch that any space needs. "The French style uses natural materials like cotton and silk, in neutral hues," says Swanson. "Subtle patterns, washed textures or a romantic foreign language script are a beautiful addition."
Featuring a wide selection of lighting and fixtures alongside a growing collection of home furnishings, Lamps Plus offers designs to allow for any number of top to bottom decoration projects. "No matter how big or small, we're here to help customers realize their dream projects," says Swanson. "And we still recognize flowers are a must on Valentine's Day and beyond…for that, we carry beautiful silk roses that never need watering and never wilt."
ABOUT LAMPS PLUS
For more than 30 years, Lamps Plus has been synonymous with excellence in the retail lighting industry. Established in 1976, Lamps Plus is the nation's largest specialty lighting store, with more than 40 superstores throughout the western United States. Together with their retail locations and online business, Lamps Plus serves customers nationwide with the largest selection of functional and decorative lighting fixtures, accessories, furniture and home decor. This selection includes hundreds of products, ranging from traditional chandeliers to the latest in home decor, available exclusively from Lamps Plus. Services include in-home lighting consultations, in-store workshops and installation from expert, licensed electricians. American Lighting Association certified designers are available to offer product recommendations and advice in all our stores, by phone or online at LampsPlus.com. The Lamps Plus family of websites also includes 55 Downing Street, Lighting Luxury Style, Builders Discount Lighting, and Lamps Plus Open Box.