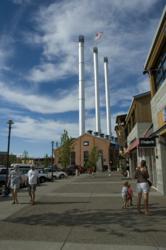 BEND, Oregon (PRWEB) January 29, 2013
The Old Mill District today announced that local companies Vanilla Urban Threads and Nashelle and national retailers Gymboree and Francesca's Collection have plans to open or expand into the Bend, Oregon shopping center.
Locally owned clothing store Vanilla Urban Threads, which originally opened in the Old Mill District seven years ago, is expanding into a portion of the previous Central Oregon Visitors Association (COVA) space with a new line of children's clothing. The eclectic boutique will now offer hard-to-find premium and wearable clothing for kids from the fashion world and street wear from surf, skate and snow brands. The shop is located at 661 SW Powerhouse Dr. Suite 1302. http://www.vanillaurbanthreads.com
Nashelle, which had popup retail store in the district over the holiday season, is opening a permanent location in the district at 661 SW Powerhouse Drive in the remaining portion of the COVA space. The local jewelry design company makes all its products right here in Bend from recycled precious metals to natural gemstones. Headquartered on Bend's east side, the shop had a successful holiday season with their temporary store in the Old Mill District and decided to become a full-time permanent resident. http://www.nashelle.com
Francesca's Collection is a boutique that carries apparel, jewelry, accessories and gifts. They specialize in finding unique pieces and carrying limited quantities, so that every customer can discover her perfect look. The national company has locations all across the United States, the closest being in Portland. This will be the company's first location in Bend, Oregon at 520 SW Powerhouse Drive, Suite 628. http://www.francescas.com They will be opening in early March.
Gymboree is a national specialty retailer with stores across the United States and Canada selling high-quality apparel and accessories for children. The company will be opening up its first Bend, Oregon retail location in the Old Mill District at 450 SW Powerhouse Dr., Suite 409. The shop will carry fashionable and unique clothing and accessories for children sizes newborn to 12 years. http://www.gymboree.com Opening late spring.
About the Old Mill District
One of the Pacific Northwest's most distinctive and dynamic mixed-use developments, the Old Mill District is located on 270 acres that formerly housed one of the largest sawmill operations in the world. The rich history of the land is coupled with spectacular mountain views, scenic river vistas and an extensive trail system to enjoy the outdoors. More than 55 local, regional and national retail outlets and businesses call the Old Mill District home, as does the park-like Les Schwab Amphitheater which can accommodate up to 8,000 patrons for concerts and other events. The Old Mill District – Bend's most unique shopping, dining, living, and entertainment experience.
The Old Mill District is open Monday-Saturday, 10 a.m. to 8 p.m.; Sunday 11 a.m. to 6 p.m. Many stores, including Regal Cinemas and restaurants, have extended hours. For complete information on the Old Mill District, visit http://www.theoldmill.com.
###