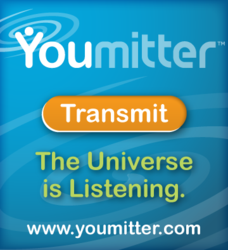 Youmitter is very interesting and is likely to grow quickly to fit a social networking opportunity. This may be the closest I have been to a ground floor (launch) opportunity that should be huge.
Alpharetta, Georgia (PRWEB) January 31, 2013
Youmitter™- Transmit. The Universe is Listening
Youmitter™ (http://www.youmitter.com) is a new social network broadcasting the thoughts, wishes, confessions, and memorials into the cosmos. "Putting it out into the Universe" is now a service available to everyone, everywhere.
Some key aspects of Youmitter are:

Completely anonymous micro-blogging
Transmit your thoughts into the Universe
Collaboration groups
Consolidation of thought for meaningful change
Wish Granting by anonymous benefactors
Direct messaging with other members
Youmitter™ is a medium for anyone to express their deepest emotions in a completely anonymous way, while creating the ability for like-minded individuals to affirm the sentiment, increasing the chances that the expression will manifest into reality. Youmitter™ also has a "Wish Granting" capability, which allows benefactors to connect with wishes that appeal to them.
Here are a few examples of wishes already granted by anonymous benefactors on Youmitter™:

Unsecured loan for $20,000
Bail posted by anonymous contributor
Homeless woman and child granted extended Winter hotel stay
Car repairs done for free
Youmitter™ is completely different from other social media sites used today. It is a completely anonymous emoti-blog. A user may post content without even a username associated with it. All identities are tracked inside the platform so that messaging and posting is anonymous between users. The platform is extremely feature rich, with unique persistent search capability and functionality designed to consolidate thought from like-minded people. It appeals to those needing to express their most intimate or spontaneous thoughts, and to the voyeur alike.
Youmitter™ arrives at the perfect time as people all over the world are realizing the power of consolidating thought for real change, and the abandonment of traditional established norms. Youmitter™ establishes a safe-zone in cyberspace to speak freely and to safely connect with others of like mind. Youmitter™ users are worldwide, with most of the user community concentrated in North America and Asia.
The reader is encouraged to visit http://www.youmitter.com for more information and to participate in this community. Youmitter™ is free to register, interact with other users and transmit daily.
Youmitter
http://www.youmitter.com
Youmitter™ is developed, owned and operated by Green Cirlce, LLC.
Contact:
Bob Landstrom
info(at)youmitter(dot)com
3000 Old Alabama Road
119-312
Alpharetta, GA 30022