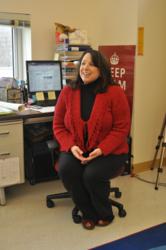 It's important to help teachers see commonalities, but then see individual students at the same time so that they can broaden their experiences with ESOL students
Alexandria, VA (PRWEB) January 30, 2013
TESOL International Association and National Geographic Learning announced today that Maryland teacher, Anne Marie Foerster Luu, is the first recipient of the TESOL Teacher of the Year Award. The award was created by TESOL and National Geographic Learning to honor exceptional English language teachers at all levels. Foerster Luu will be recognized at the opening session of the 2013 TESOL International Convention & English Language Expo in Dallas, Texas, USA.
The winner of the TESOL Teacher of the Year Award receives US$1,000; a free one-year membership in TESOL International Association; TESOL publications (valued at US$250); and registration, travel and accommodations for the TESOL International Convention & English Language Expo. The award recipient also delivers a presentation at the TESOL convention.
Foerster Luu has been a Pre-K–12 English language teacher in Montgomery County Public Schools, Maryland, for 13 years, and she worked in higher education administration before that. She received her master's of education in TESOL from the University of Maryland-College Park and her master of arts in education leadership from West Virginia University.
Speaking about her role as the only full-time teacher of English to speakers of other languages (ESOL) at her elementary school, Foester Luu says, "It's important to help teachers see commonalities, but then see individual students at the same time so that they can broaden their experiences with ESOL students . . . no single handout is going to work; no single conversation is going to work. . . . ESOL teachers really need to keep their doors open, and to see themselves as someone who is advocating for their students."
National Geographic Learning will present the award to Foerster Luu at the 2013 TESOL International Convention & English Language Expo, where she will deliver a presentation titled "TESOL Teacher of the Year: Best Practices in ELT Excellence."
About TESOL International Association
Founded in 1966, TESOL International Association is a professional community of educators, researchers, administrators, and students committed to advancing excellence in English language teaching for speakers of other languages worldwide. With more than 13,000 members representing over 150 countries, TESOL fosters the exchange of ideas, research, and peer-to-peer knowledge, and provides expertise, resources, and a powerful voice on issues affecting the profession. Through professional development programs, its international conference, special interest groups, and publications, TESOL engages tens of thousands of professionals to collaborate globally and create a world of opportunity for millions of people of all ages who want to learn English.
About Cengage Learning and National Geographic Learning
Cengage Learning is a leading educational content, software and services company for academic, professional and library markets worldwide. National Geographic Learning, part of Cengage Learning, is a provider of quality core and supplemental educational materials for the PreK‐12, higher education and adult education markets. Cengage Learning and National Geographic Learning also distribute a variety of content from the National Geographic Society, including images, maps, videos and articles, to the academic and library markets worldwide. The company's products and services are designed to foster academic excellence and professional development, increase student engagement, improve learning outcomes and deliver authoritative information to people whenever and wherever they need it.