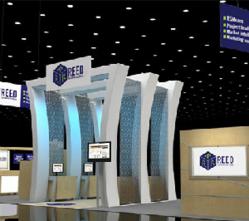 Our products and services not only open new business opportunities, but also save time and increase efficiency – making a real difference to a business's bottom line."
Norcross, GA (PRWEB) January 30, 2013
Reed Construction Data, North America's leading construction information provider, will be demonstrating its newest and most popular products at this year's World of Concrete Convention in Las Vegas, February 5-8. Visitors to booth #C4335 can get free project leads from Reed Construction Data, plus a free trial for the new RSMeans Online and a chance to win a $50 gift card.
"Reed is committed to providing the actionable insight construction businesses need to succeed in this very competitive economy," said Jen Johnson, Director of Project Management, Reed. "We'll be showing products that help contractors and subcontractors find, bid and win more projects successfully – so they can stay a step ahead of their competitors."
The Reed booth is showcasing:

RSMeans Online, the new, visual and interactive way to create, manage, save and share cost estimates quickly and accurately
SmartProject News, a time-saving project lead service that keeps contractors aware of projects coming up for bid in their areas
specEdge, the targeted marketing campaign program that allows contractors, subcontractors and building product manufacturers to deliver product and service information directly to interested decision-makers
cūbus, the new market intelligence solution that uses live project information to provide instant insight into market activity
"Our products and services not only open new business opportunities, but also save time and increase efficiency – making a real difference to a business's bottom line," stated Jen Johnson. "Our goal is to provide insight that leads to profitable results."
Visitors to Reed's booth #C4335 or to http://www.reedconstructiondata.com/events/woc-2013 can receive free project leads from Local Bid Alerts and a free trial for cost data from RSMeans Online.
Booth visitors can also enter a drawing to win one of several gift cards. No purchase is necessary to enter or win. To view the official sweepstakes rules or learn more about Reed at World of Concrete 2013, visit: reedconstructiondata.com/events/woc-2013/.
About Reed Construction Data
Reed Construction Data, a division of Reed Business Information and the Inaugural Strategic Partner of the AIA, is a leading North American provider of construction information. Reed provides actionable insight to construction professionals through a diverse portfolio of innovative products and services, including national, regional and local construction project data, accurate and reliable construction cost data, effective marketing solutions and dynamic market intelligence solutions. For more information, visit http://www.reedconstructiondata.com.
About RSMeans
RSMeans, a division of Reed Construction Data and the most quoted name in construction, is North America's leading provider of construction cost information. For more than 70 years, RSMeans has been the source of locally relevant, accurate and up-to-date cost information construction professionals can count on to build competitive estimates and control construction costs. The on-staff experts at RSMeans offer seminars, consulting services and assistance with cost data and estimating needs. For more information, visit http://www.reedconstructiondata.com/rsmeans.
About Reed Construction Data Canada
For more than 90 years, Reed Construction Data Canada has been the voice of Canada's construction industry and Canada's leading provider of construction information solutions and industry news. Reed Canada offers its customers construction project leads, building product information, construction cost tools, market analytics and construction news through a suite of online, digital and print references. For more information, visit http://www.reedconstructiondata.com/can.