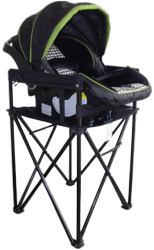 I never dreamed we would be employing the help of a singer/songwriter from half-way around the world.
Spartanburg, SC (PRWEB) January 30, 2013
Hollett Baby is an online store which currently sells a patented travel highchair that converts to hold baby car seats (and folds like a camping chair). The company plans to add to their line and include additional patented baby gear and accessories. When Hollett Baby decided to expand the company's marketing material to include a jingle, the obvious obstacle was finding someone that could write and produce a short song to embody the essence of the company…all at a reasonable cost.
"I never dreamed we would be employing the help of a singer/songwriter from half-way around the world," said Stephen Hollett, CEO of Hollett Baby. "It turned out to be exactly what we needed, at just the right time for our company," said Hollett.
Some time ago a simple news story about a new website caught the eye of Lisa Hollett, President of Hollett Baby, and luckily the site was bookmarked for future use. It was a website called Fiverr, where people from all walks of life go to sell their "gigs" for a mere five bucks. The sellers decide what they will be willing to do for five dollars, and post it to the website. Buyers are then able to scroll through the different categories of offerings to find something that appeals to them.
"I happened upon a listing by a singer/songwriter from the UK named Andrew Ferris, and he was willing to compose a simple jingle for $5. I ordered the 'gig' as they are called, purchased a couple of add-on gigs to help round out the sound of the jingle, filled out some basic information about our company and what type of jingle we were hoping for, and Andrew went to work," said Lisa Hollett. "The result was just exactly what we had hoped for, and having the song performed in Andrew's lovely British accent was icing on the cake," said Hollett. The jingle can be found on Hollett Baby's website just below the main pictures on the home page.
A quick search on the Fiverr website now reveals that Ferris has moved on to bigger things. He no longer offers his talents on Fiverr, but is concentrating on finishing up an album. His music and story can be found on his website. "We wish Andrew the best of luck in all of his endeavors, and we will certainly be following his progress," said Stephen Hollett.
About Hollett, Inc.
Hollett, Inc. is a family owned business located in Spartanburg, SC. The company was founded on one simple principle: offer families and restaurants safe, simple to use, and stylish high chairs and accessories that help make the dining experience more enjoyable. http://www.hollettbaby.com
Stephen Hollett, CEO of Hollett, Inc. invented and patented two high chairs for use in the home, while traveling, and in restaurants. The Travel Dual-Mate™ is the only portable and foldable travel high chair that safely holds an infant carrier and easily converts to hold a toddler, making it ideal for: vacationing, camping, picnicking, visiting friends or relatives, or in a restaurant that may not understand the importance of providing safe seating accommodations for babies and toddlers. In addition to the portable highchair, the Dual-Mate™ highchair will be offered in wood, aluminum, and plastic. The Hollett™ product line also includes customizable seat covers.
Mr. Hollett, a former resident of Winston-Salem, NC, holds an M.B.A. from the University of Miami in Coral Gables, Florida and a B.S.B.A. from East Carolina University in Greenville, NC. Lisa Hollett, President of Hollett, Inc. studied mass communications at the University of South Carolina, Upstate and has fifteen years of experience in working with young children and their families while staying current on the latest trends in childcare. For additional information on Hollett, Inc. or its products, contact:
Stephen Hollett, CEO [stephen at hollettbaby dot com] or
Lisa Hollett, president [lisa at hollettbaby dot com] or
visit their website at http://www.hollettbaby.com.
Toll-Free (888) 632-6982 or (864) 285-0171