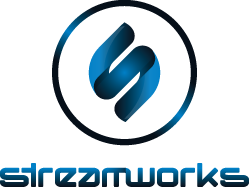 "By partnering with us, Streamworks will help introduce Immersive's video capabilities and the world of online live events to any device, anywhere," said Ray Mia, CEO and founder of Streamworks International.
London, England (PRWEB) January 31, 2013
Streamworks International (http://www.streamworksint.com), a global specialist in live video over IP, has partnered with Immersive Media (http://www.immersivemedia.com), a provider of 360º and full spherical, interactive video experiences. Under the new partnership, Streamworks will provide back-end encoding and delivery for Immersive Media's front-end streaming of various 360º live video projects, which includes music concerts and other live events.
By working with Immersive Media on this partnership, Streamworks will encode Immersive's live 360º video using the company's proprietary compression technology, enabling Immersive's work to be viewed on any device, anywhere. This technology will provide a better user experience for viewers, the reason for this is Streamworks will deliver Immersive's 360º live video using less bandwidth, consequently minimising latency and buffering. In turn, Streamworks' technology, which optimises Immersive's breakthrough video expertise, will now give the company a "missing link" technology with an efficient, cost-cutting delivery system.
"Immersive Media has already broken new ground in the video industry with its stunning 360º video productions," said Ray Mia, CEO and founder of Streamworks. "From its beginnings with the invention of 'Street View' for Google Maps, its work following the Olympic Torch during the London 2012 Olympics for Lloyds TSB, to the streaming of the Republican and Democratic Conventions partnered with CBS. The company has enabled the ability to record and publish impressive high-resolution, highly interactive 360º video."
Accessibility on any device is the key to the partnership. Added Mia, "By partnering with us, Streamworks will help introduce Immersive's video capabilities and the world of online live events to any device, anywhere. This will be bigger and more permanent than 3D, as this is a brand new market vertical. Immersive technology is delivered via IP – meaning that it lives on the web and can only be distributed via IP, and it's differentiated from traditional broadcast as existing mainstream delivery systems for TV cannot replicate the interactive 360 experience."
"Immersive Media specializes in end-to-end, 360º full spherical video solutions, live events can be challenging, as our technology relies on high bandwidth," said Myles McGovern, CEO of Immersive Media. "In partnering with Streamworks, we are now working with a company that excels in providing technology to deliver our live video/imagery without high costs or the need to build new infrastructure. The combination of our 360º video, along with the live streaming encoding technology of Streamworks, will offer online viewers a truly unique, interactive experience for live events online. Together the two companies are looking to capture and own this vertical as our systems work extremely well in parallel."
About Streamworks International:
Streamworks is a trusted specialist in delivering decisive moments, distributing frontline breaking video news faster and in higher quality than anyone else. Our proprietary technology allows us to provide real-time video at a reduced bandwidth of up to 30 percent, allowing our clients to rely on us to deliver content in as near to real-time as is possible - to any device, anywhere, at any time. Recent highlights from the list of news content delivered around the world by Streamworks include the 2012 Summer Olympics, the U.S. Presidential election, Syria's civil war, the Leveson Inquiry and the clashes in Cairo. Streamworks clients include AP, UN, YouTube, Ruptly/Russia Today, The Daily Mail, The Daily Telegraph, The Axel Springer Group, MSN, Ekstra Bladet, Nelonen, Dwango, WRC, LTA, MLG and The Metropolitan Police. For more information visit http://www.streamworksint.com
About Immersive Media:
Immersive Media is the pioneer and leading provider of video on demand or live 360º, interactive video experiences. Its one-of-a-kind geodesic camera and full production services - including rental equipment, training, filming, post-production and distribution options - create high-resolution, immersive video for a variety of uses.
Immersive Media clients include Intel, Discovery Channel, National Geographic, General Electric, NVIDIA, Converse, Emmy Awards, CBS, Grammy Awards, Lloyds TSB, Bacardi, LAPD and NYPD.To learn more, visit http://www.immersivemedia.com.