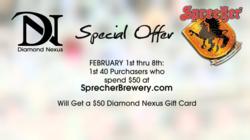 Premium quality craft soda with a splash of dazzling jewelry makes the best gift idea!
(PRWEB) January 31, 2013
Running from Feb. 1st through Feb. 8th, the first 40 purchasers who spend $50 or more at SprecherBrewery.com will receive a $50 Diamond Nexus gift card. "Sprecher's online store is able to ship all merchandise, minus their alcoholic brews. Customers can order gifts for the whole family and also get a discount on fine jewelry for their special Valentine," said Kyle Blades, Director of Marketing for Diamond Nexus.
Conversely, the first 100 customers shopping at diamondnexus.com will get a coupon for a free twelve-pack of Red Raspberry Soda with their minimum $20 purchase at SprecherBrewery.com. "Any Diamond Nexus purchase qualifies so this offer is too good to pass up. Premium quality craft soda with a splash of dazzling jewelry makes the best gift idea!" Blades continued.
"Sprecher Brewery was an obvious choice for us when looking for another Milwaukee based company to partner with for a special holiday deal. I know that their root beer is famous and with customized Valentine's Day soda bottle labels along with specialty flavors made just for sweethearts to enjoy can really add to any romantic occasion," commented Jennifer London, Social Media Coordinator. "Who wouldn't want a delicious Sprecher root beer float after a candlelit dinner? I know that I would be impressed!"
For visitors to Milwaukee, Sprecher offers tours of their facilities along with sampling of their craft beers and sodas, all made at the production facility using the finest of ingredients. Locally grown products are incorporated as much as possible.
Every Thursday, Sprecher also offers Beer and Tapas nights for adults and this Valentine's Day happens to fall on a Thursday, so interested couples living in the area can book a reservation for the Valentine's Day Beer and Tapas Event, starting at 6:30pm. It will feature twelve Sprecher beers paired with twelve tapas plates. Call to book a reservation at 414-964-2739.
Diamond Nexus was founded in 2004 with the purpose of bringing to the public the powerful benefits of the lab-created diamond simulant revolution. They have over 250,000 customers worldwide that have awarded them an "A+" rating with the BBB, and are the ninth largest online jewelry retailer in America according to the 2011 IR500 list. For two years in a row brides from The Knot have selected them as their Best of Jeweler. Diamond Nexus currently has two retail locations: their flagship store at Woodfield Mall in suburban Chicago, Illinois, and a second store at Mayfair Mall in Milwaukee, Wisconsin. In 2009 the company was named the official jeweler and crown maker of the Miss Universe Organization as part of NBC/Universal's "Green is Universal" environmental initiative.